Comprehensive screens and creating ranking systems are one of my favorite starting points for identifying potential investments. While I typically focus on Dividend Champions (stocks that have raised dividends for 25+ years) or high yield momentum stocks, this screen began with the entire universe of US stocks, excluding those that trade over-the-counter.
Using Stockscreen123, I required stocks to have:
yield > 3%,
payout ratio < 50%
dividend growth of at least 5% over the past 1, 3, and 5 years
dividend growth rate among the top 5% in the stock's respective industry
Projected PE > 0 (in other words, the stock is expected to be profitable next year)
Not over-the-counter
This criteria currently yields 25 names, including 7 ADRs, and two stocks are featured below (the rest of the list is at the bottom of the article). Lockheed Martin is a current holding in the High Yield Momentum portfolio:
Lockheed Martin (LMT)
LMT is an Aerospace/Defense product and service provider with a market capitalization of $29.49 billion. It currently yields 4.4%, and has a modest 41% payout ratio. It has been in a strong uptrend since August and has returned over 23% in 6 months. LMT also has a price to free cash ratio of 13.58 and has shown a commitment in recent years to raising dividends - the 1 and 3 year dividend growth ratio is in excess of 20%.
However, a potential concern for potential long-term investors in LMT is future fiscal cuts. If the defense budget in the United States is reduced in coming years in order to help balance the budget, this could have an adverse impact on earnings for LMT, which has already increased its lobbying effort in an effort to help prevent these cuts. The company announces earnings before the market opens on April 26th.
(Weekly Chart courtesy of Finviz)
(click to enlarge)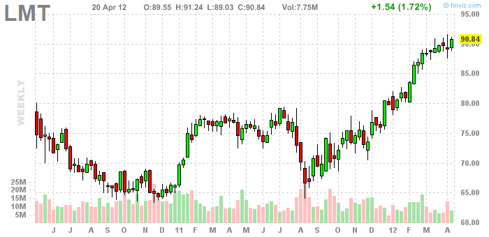 Friedman Industries (FRD)
FRD is a basic material company engaged in steel processing, pipe manufacturing and processing and distribution. The company has a market cap of $76 million and is a low-priced stock, last trading at $11.24. Given the low market cap,float (6.8m shares outstanding), volume, and institutional ownership it could be considering higher risk.
FRD has a current yield of 4.63%, payout ratio of 37%, and a 3 year dividend growth rate of nearly 46%. The company has no long-term debt and trades at a price to book ratio of 1.23. Like LMT, it has had a nice run since August 2011 as investors believe it offered a value opportunity:
(click to enlarge)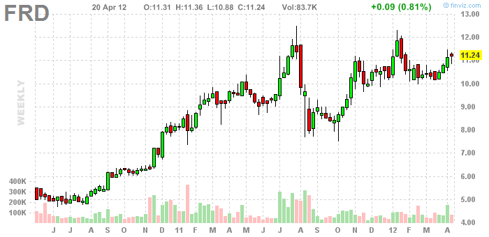 Below is the full list of 25 stocks matching the screen criteria. Stocks are ordered on the basis of yield; however, data should be closely scrutinized, especially in regards to ADRs:
| | | | | | | | |
| --- | --- | --- | --- | --- | --- | --- | --- |
| Ticker | Name | Rank | Yield | Div5Y Cgr% | PayRatioTTM | Div3Y Cgr% | Div% Chg A |
| (BMA) | Banco Macro SA (ADR) | 88.82 | 13.1 | 53.42 | 0.05 | 50.37 | 142.86 |
| (AZN) | AstraZeneca plc (ADR) | 85.16 | 6.06 | 10.24 | 36.84 | 10.95 | 9.8 |
| (VALE) | Vale (ADR) | 83.84 | 5.11 | 26.39 | 39.02 | 45.43 | 201.71 |
| (STRA) | Strayer Education Inc | 78.49 | 4.64 | 30.42 | 46.31 | 34.88 | 23.08 |
| (FRD) | Friedman Industries | 96.44 | 4.63 | 21.29 | 37.16 | 45.98 | 1300 |
| (SNP) | China Petroleum & Chemical Corp. (A | 86.22 | 4.41 | 18.2 | 35.52 | 35.72 | 42.86 |
| (LMT) | Lockheed Martin Corporation | 74.57 | 4.4 | 21.06 | 41.17 | 21.1 | 23.11 |
| (SI) | Siemens AG (ADR) | 85.95 | 4.2 | 15.65 | 40.81 | 23.31 | 11.11 |
| (RCI) | Rogers Communications Inc. [USA] | 85.74 | 4.02 | 78.89 | 49.01 | 12.4 | 10.94 |
| (HAS) | Hasbro, Inc. | 93.11 | 4.01 | 20.11 | 41.25 | 14.47 | 20 |
| (CLF) | Cliffs Natural Resources Inc | 91.77 | 3.71 | 28.74 | 7.28 | 33.89 | 64.71 |
| (SBSI) | Southside Bancshares, Inc. | 83.35 | 3.64 | 19.57 | 37.49 | 18.26 | 11.18 |
| (RES) | RPC, Inc. | 97.9 | 3.53 | 29.46 | 15.97 | 25.99 | 126.95 |
| (TWGP) | Tower Group Inc | 74.77 | 3.52 | 47.15 | 46.34 | 51.1 | 76.92 |
| (BBL) | BHP Billiton plc (ADR) | 91.87 | 3.49 | 22.91 | 25.6 | 13 | 16.09 |
| (ABB) | ABB Ltd (ADR) | 93.77 | 3.46 | 29.2 | 49.67 | 16.96 | 24.14 |
| (DRI) | Darden Restaurants, Inc. | 90.58 | 3.44 | 26.19 | 45.97 | 21.14 | 28 |
| (FLIC) | The First of Long Island Corporatio | 78.02 | 3.35 | 12.47 | 40.59 | 10.89 | 7.14 |
| (WEC) | Wisconsin Energy Corporation | 59.22 | 3.34 | 17.72 | 47.11 | 24.42 | 30 |
| (ETN) | Eaton Corporation | 94.77 | 3.2 | 12.94 | 34.22 | 10.79 | 25.93 |
| (AFL) | AFLAC Incorporated | 91.14 | 3.17 | 17.47 | 29.26 | 8.61 | 7.89 |
| (BLK) | BlackRock, Inc. | 70.11 | 3.15 | 26.77 | 32.34 | 20.8 | 37.5 |
| (AMAT) | Applied Materials, Inc. | 77.29 | 3.06 | 11.49 | 27.24 | 8.91 | 14.81 |
| (INTC) | Intel Corporation | 81.8 | 3.04 | 14.36 | 33.02 | 12.64 | 24.19 |
| (CAC) | Camden National Corporation | 39.89 | 3.01 | 11.26 | 44.05 | 14.47 | 50 |