The Greek merchant marine industry is the largest in the world and is responsible for over 16% of the Greek economy. Only the Greek tourism industry is responsible for a larger piece of the Greek economic pie. If the stock market is a predictor of economic conditions then we should look to the Greek maritime industry stocks traded on U.S. exchanges to determine if Greece is in recovery. The ASE:IND or Athens Stock Exchange General Index is down 49.1% in the past 52 weeks. The New Year has brought some optimism for the Greek market with the index trading 5.1% higher this year. Since there are many Greek maritime stocks trading on U.S. exchanges I wanted to take a look at their current performance to determine if they have outperformed their homeland market, and guess what, they have - some by a very large margin.
Here is a list of the more liquid Greek Shipping ADRs.
| | | | |
| --- | --- | --- | --- |
| | Ticker | Past 52 Weeks | 2012 |
| Greek Market | ASE:IND | -49% | +5% |
| DryShips, Inc. | (DRYS) | -32% | +58% |
| Tsakos Energy Navigation Ltd. | (TNP) | -32% | +36% |
| Excel Maritime Carriers, Ltd. | (EXM) | -56% | +21% |
| Navios Maritime Holdings Inc. | (NM) | -22% | +9% |
| Navios Maritime Partners L.P. | (NMM) | -16% | +8% |
| Diana Shipping Inc. | (DSX) | -28% | +7% |
courtesy of finviz.com
Long-Term DRYS Chart - Note the volume at the start of 2012.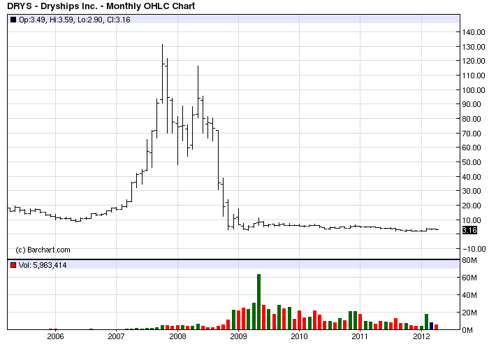 Click to enlarge
courtesy of barchart.com
DRYS - the leader and crown jewel of the industry with over $1B in revenue has roared back in 2012 with a 58% gain so far this year. Quarterly revenue growth (52%) is picking up and may continue as the weaker players in the industry are having trouble staying afloat. DRYS is currently trading at 8X forward earnings and at a price-to-sales ratio of 1.25. If global demand for dry bulk products can rebound from current levels then profitability will return quickly to those who still remain in the industry.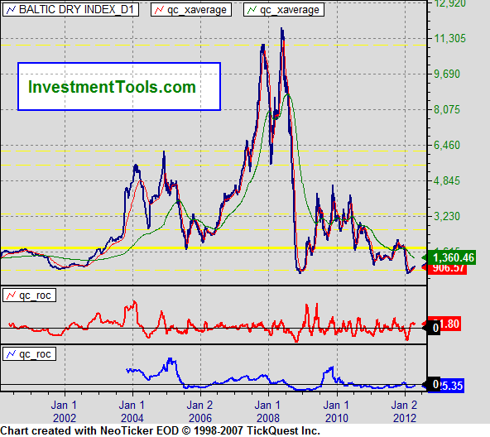 Click to enlarge
The Baltic Dry Index (seen above) is a shipping and trade index that measures the cost to transport raw materials around the world. It is understandable that the industry would suffer losses after experiencing such demand during the boom years of 2006-2008. If the world is coming out of the current recession - Greek shippers will be the first to tell us.
Add DRYS to your Seeking Alpha portfolio to monitor the latest headlines and consider starting a position this week.
Disclosure: I have no positions in any stocks mentioned, but may initiate a long position in DRYS over the next 72 hours.