Last week, Immersion (NASDAQ:IMMR) announced the launch of the haptic-enabled DoCoMo Medias ES N-05D smartphone and DoCoMo Medias Tab N-06D tablet in the Japanese market. These devices are manufactured by NEC Casio Mobile and NEC, respectively.
NTT DoCoMo is Japan's premier provider of mobile services, with roughly 60 million customers in its domestic market alone. It is one of the world's largest mobile communications operators.
NEC and NEC Casio Mobile Communications were announced as new licensees during Immersion's latest conference call:
We are also excited to announce NEC as the latest OEM to join our expanding mobile customer base, with the introduction of its first devices leveraging TouchSense 3000.
The Medias ES N-05D smartphone specifications are quite impressive:
NEC's New Android Phone Is 6.7mm thin

NEC did it again: about 11 months after unveiling the world s slimmest smartphone at that time, the company is ready to release another super-thin Android phone with a set of impressive specs.
Looking at the NTT DoCoMo presentation of the device (via Google translate), haptics is mentioned as one of the main characteristics of the phone, with "touch feedback" and "touch sensitive" mentioned in the main features section. Not long ago, NTT DoCoMo had also introduced Fujitsu's F-12C smartphone in its range, the first publicly available mobile handset with Immersion's MOTIV Integrator.
A quick look at its product offering gives an interesting insight into the growing role of haptics. If we take tablets as an example, we realize that most devices in its range (four out of five) now include haptic as a feature, from several different manufacturers:
Click to enlarge image.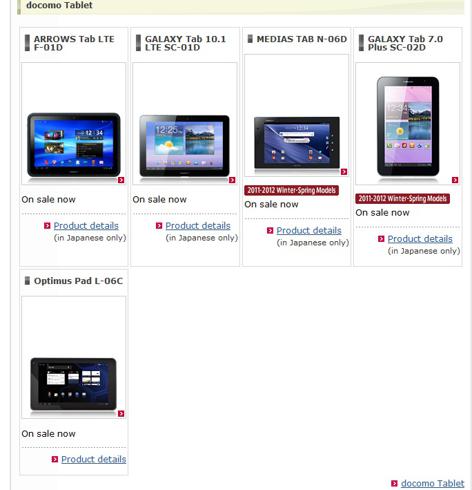 Source: NTT DoCoMo's product list.
One interesting aspect of haptic technology, at least as it relates to smartphone implementation, is the different acceptance we've noticed, so far, in the U.S. and Far East markets (with Europe probably representing a middle point between the two extremes). Korea, now probably the most advanced country in the world as far as broadband penetration and connectivity and among the best in information technology and communication (ITC), has made great technological advancements in the fields of electronics, automobiles and robotics in the last few years. Some of the largest handsets producers, like Samsung and LG, are from Korea and have recently gained a leadership role in the mobile world.
Today, almost all Korean smartphone producers have embraced haptics as a key feature for their up-market handset range, and have licensed Immersion's technology. Japan now seems to be slowly following its neighbors' example, with several smartphone domestic producers recently incorporating Immersion's IP into their products. Japanese customers, who are known to be very demanding, also seem to enjoy the advantages of haptic technology (mostly experienced through Korean manufactured products), especially since it is now allows for more sophisticated and integrated effects.
The U.S. smartphone and tablet market, on the other hand, is mainly dominated by Apple (NASDAQ:AAPL). In spite of several patent applications in the haptic field, Apple has just recently started adding some custom vibrations to its user experience. Google's (NASDAQ:GOOG) Android OS, on the other hand, allows for some basic haptic effects -- which Immersion believes are infringing on its IP -- leaving manufacturers free to "upgrade" to Immersion's more sophisticated programmable haptics (with several EOMs following this route).
So far, Korean OEMs that have implemented Immersion's technology in their ranges have always included this technology in their subsequent products. As the number and quality of "touch feedback" effects improves, and developers starts implementing this technology into more and more gaming apps, there's hope that haptics can be seen as a "must have" in smartphones. The question remains: Will U.S. customers show the same liking for haptics as their Far East peers, and push U.S.-based producers into opening the door to more haptics in their product ranges?
As we quickly mentioned Immersion's lawsuit concerning the use of basic haptics in the Android OS, it may be time for an update on the ITC case against Motorola and HTC. On April 2, the U.S. International Trade Commission voted to institute the investigation, as requested by Immersion. On April 12, the Commission also set a target date for the completion of the investigation. According to this filing, the parties are requested to submit a discovery statement by May 1, 2012, with hearings to start in March 2013 and be concluded no later than mid-April 2013. The target date for the completion of the investigation is October 2013, although the schedule includes dates for three settlement meetings, with the first foreseen for late July 2012 and the other two by year's end.
Disclosure: I am long IMMR.