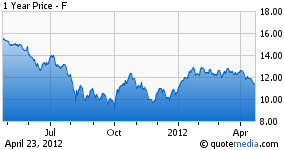 When the financial crisis hit a few years ago, the big three U.S. automakers were hit hard. Both accepting bailout money from the government, Chrysler and General Motors (NYSE:GM) went through Chapter 11 bankruptcy. Ford (NYSE:F) however, did not go through bankruptcy courts and was able to reestablish its brand, forcing the company to become leaner. Although the price of Ford's stock has dropped roughly 25% over the last year, the stock trading around $11 per share, it could be a good entry price for investors to make a profit. The company does have a higher than normal beta of 2.92, giving the stock higher volatility than the market. After five years of not offering a dividend, Ford decided it was finally healthy enough to begin offering dividends to investors earlier this year. Ford's current dividend yield is at 1.80%, or $0.20 annually. Although this is not a large yield or payout, it is a sign that the automaker has put its trouble earnings behind it. The current earnings per share of Ford are $4.94, giving the stock a price to earnings ratio of 2.30. This number is substantially lower than the industry ratio of 24.3, which includes automakers like GM, Toyota (NYSE:TM), and Honda (NYSE:HMC).
GM, like Ford, has also been hit hard over the last year. The stock's price sank about 20% over the last 12 months. However, unlike Ford, I am not sure this is a stock I would necessarily want to get into at this price. The company was able to sell 1.18 million vehicles worldwide in the first quarter. This is up 6.5% from a year earlier. One interesting fact for GM is that its brand Chevrolet now has more than 60% of sales outside of the U.S. This could be a possible growth opportunity for the company. While I do not think GM is a bad company, I do think that there are other auto stocks an investor should own over this fallen giant.
After experiencing a huge drop in price in the fourth quarter of last year, Toyota's stock has recovered to about a 5% increase over the last 12 months. Overall, the company is still trying to get past the bad image it gained from the brake problems in 2010, resulting in recalls of 1.5 million vehicles. In addition, Toyota recently issued a recall for Prius hybrid cars. The campaign is to fix a problem with the control mechanism in the exhaust system of the Prius V, totaling about 20,000 vehicles in North America. Even with this recall, I do believe that the company has growth potential over the next few years. As consumers look for more fuel efficient, and even electric cars, Toyota has the technology that should help continue to make the company a leader in the industry.
Honda is another company that has seen its price go back and forth over the last 12 months. After hitting a low in the fourth quarter of last year, the stock is nearing a full recovery, although it is still down about 5% from a year ago. Some analysts have downgraded the stock to Neutral from Outperform. Part of this is due to disappointing results as well as the appreciation of the yen against foreign currencies. However, Honda does have a huge chance at growth potential. Honda is currently transferring its basic hybrid vehicle technology to Chinese auto makers. Honda believes this is a huge untapped market and looks to grab a dominant position, putting itself ahead of both U.S. and European competitors. The estimate is that China will become the largest eco-car market in the world. If Honda's bet pays off, it could result in huge earnings for the automaker.
Outside of concerns for normal competition, the auto industry as a whole does have things to worry about. On March 31st, a German chemical plant experienced an explosion. The plant belongs to Evonik Industries AG, and as a result, there could be a global shortage of a chemical critical for new car manufacturing. As auto makers and suppliers discussed the possible problem, it was determined that there is an alternative to the chemical that can be used without a problem. However, it will most likely take weeks of preparation and existing supplies may run out in the interim. The problem with implementing a new alternative is that there may be concerns with the product's durability and quality. After some of the recalls auto makers have experienced in the past, this is something they would surely like to avoid. If there are shortages, this would ultimately affect just about every player in the auto industry, causing a jam in production and a reduction in profits.
As for Ford, I do see the company continuing to grow its earnings in 2013. The company is learning from its mistakes and is beginning to capitalize on markets it once ignored. With smaller cars becoming more popular, Ford saw its compact Focus realize an increase in sales of 65% from the comparable period last year. As India becomes a huge market for smaller sized cars, Ford does have some catching up to do against its competitors. If it is able to, then it will see an even bigger increase in sales than recently reported. In the short term, the shortage of materials as a result of the explosion in Germany could set back automakers as a whole. However, in the long run, I do see a bright future for Ford. Analysts predict the stock to increase to a mean target price of $16.15. Achieving this would result in an increase of about 41%. Out of all of the automakers, I believe Ford has the most upside.
Disclosure: I have no positions in any stocks mentioned, and no plans to initiate any positions within the next 72 hours.