Tractor Supply (NASDAQ:TSCO) reported its 3Q 2007 results on 10/24/07 (see conference call transcript). Here are some highlights and a few of my thoughts.
3Q 2007 Highlights
Sales up 12.5% to $629.2 million from $559.2 million in 3Q 2006
Cost of sales $430.55 million from $384.3 million in 3Q 2006
SSS up 1.9% - driven by animal health and pet supplies categories
Gross margin 31.6% from 31.3% in 3Q 2006
Net income $17.5 million ($0.44 per share) from $18.1 million ($0.44 per share) in 3Q 2006
Profit margin 2.8% from 3.2% in 3Q 2006
Diluted share count 39,813,000
Repurchased 645,022 shares of stock for approximately $31.2 million
$25.72 million in cash
Opened 21 stores
Relocated 4 stores
Fiscal 2007 Outlook
Expecting sales of $2.68 billion to $2.7 billion (lower from previously expected $2.7 billion to $2.75 billion)
SSS expected to increase 2.5% to 3% (down from previously expected 3% to 4.5%)
Expecting EPS of $2.37 to $2.43 (down from previous expectations of $2.49 to $2.56)
The company's lowered guidance is what really made the market dump the stock after this report. Currently Tractor Supply shares stand at $42.05, right around its 52 week low of $41.41. Considering the difficulties the company has had over the past few quarters, I wouldn't say this was a terrible quarter. Earnings decreased slightly but the company is buying back a good chunk of shares (although that hasn't really helped Select Comfort either). The balance sheet remains healthy, sales are growing, and margins are holding fairly steady. It's by no means a great quarter, but it's definitely acceptable for the time being.
I'm not going to be buying anytime real soon - the company's environment is probably not going to be improving dramatically in the next couple quarters, so I'm comfortable putting off an investment until a later date. I still believe this is a fine company and I think they have a good future ahead of them, but I think there are better places for new money at this point in time.
I will be looking into the company's previous two quarters hopefully sometime soon, I just haven't had the time lately to do too much extensive research. For the coming 4Q 2007 analysts are on average expecting an EPS of $0.77 on sales of $708.11 million. They lowered their EPS estimates from $0.83 to $0.77 after the company released 3Q results. I wouldn't be surprised if they lowered them some more, it will be interesting to see. Also, the company hired a new Chief Merchandising Officer who seems to be very experienced.
I'll be doing some more research into the company sometime down the road.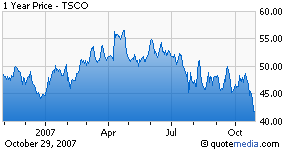 Disclosure: none