"I see London, I see France, I see Sarkozy has no chance?"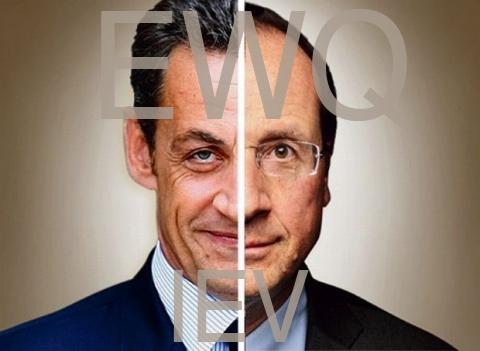 The first round of French elections was held Sunday, and the loser was Sarkozy. But the top two finishers, socialist Hollande and center-right Sarkozy, face each other May 6th to determine the next French leader. Hollande is expected to prevail, but there's a variety of other losing right and left parties that can swing the final vote outcome.
Hollande's agenda is to reduce austerity packages and raise the millionaire tax to 75%. This will upset the fiscal agreements and monetary policies forged by Merkel and Sarkozy of the two leading European economies. Many hope Hollande will be more the pragmatist should he win outright control of the new government. Naturally, we have a couple of weeks and then some to see how it all works out. In the meantime, there is uncertainty and worry. But should Hollande's policies become law, you might see many French millionaires on the road to Monaco or some such place.
Amid the French election came news that manufacturing data from the eurozone fell to 47.4 vs. expectations of 49.3 and 49.1 previously. If this wasn't enough to upset investors in the eurozone, there was news from the Netherlands of a political stalemate regarding hoped-for austerity measures there. This may mean a loss of the country's AAA credit rating. If all this negative news wasn't enough, China reported manufacturing data of 49.1, a serious disappointment.
So the world faces global economic contraction and political stalemates regarding fiscal issues that must be confronted and solved.
Naturally this brings us to markets where stocks throughout the eurozone are falling sharply. The iShares MSCI France ETF (NYSEARCA:EWQ) and iShares S&P Europe 350 ETF (NYSEARCA:IEV) are front and center on all this news. Most eurozone ETFs have been on a news roller coaster and many long-term investors have just avoided the sector overall. Shrewd traders have traded the news either from the long or short side and, if nimble enough, have profited.
Below are some current chart views of both the EWQ and IEV.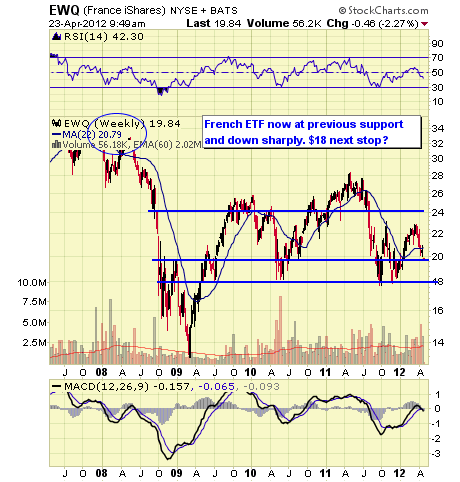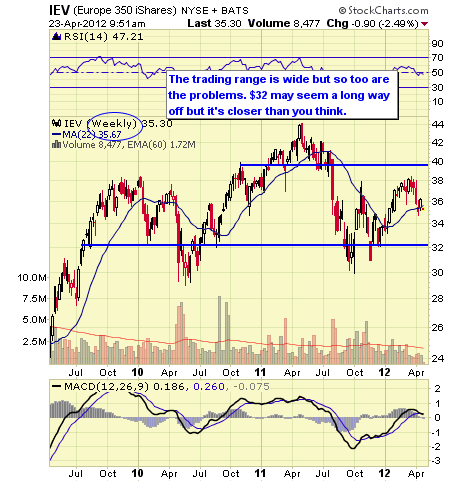 Other ETFs based on current news and in similar shape are iShares MSCI Netherlands ETF (NYSEARCA:EWN) and iShares MSCI European Union Monetary ETF (BATS:EZU).
Join the banter with us on Facebook and Twitter.
Disclosure: I have no positions in any stocks mentioned, and no plans to initiate any positions within the next 72 hours.