The market will be receiving a large slate of important earnings reports over the next couple weeks, and we are excited to see what they hold in store for us. To prepare, we spent some time this week looking at several historical movements for companies reporting next week. By looking at these movements, we can try to craft some different earnings trades that take advantage of large swings and/or under anticipation of large swings that should be expected. We investigated the two weekly earnings movement of VF Corp. (NYSE:VFC), Amazon.com (NASDAQ:AMZN), Potash (NYSE:POT), Dr. Pepper Snapple (NYSE:DPS), Caterpillar (NYSE:CAT), Panera Bread (NASDAQ:PNRA), Baidu (NASDAQ:BIDU), Apple (NASDAQ:AAPL), Netflix (NASDAQ:NFLX). With each company, we look at its average gains for the week of earnings, max highs, max lows, and amount of times up versus down. Below we have listed our findings as well as trading ideas for these companies.
Here is what we found for the past 10 reports from the above companies: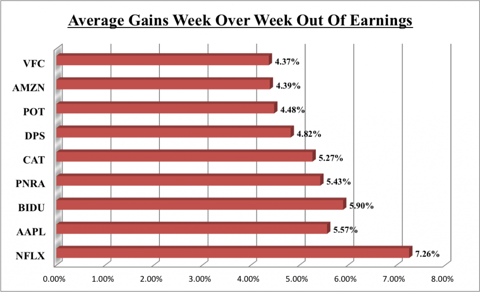 First, we see the average gains that each company has made for the week over week gains from opening day of the week prior to the reporting date week for the past ten reports. The top companies were Netflix , Apple and Baidu .
Here are some of our other findings: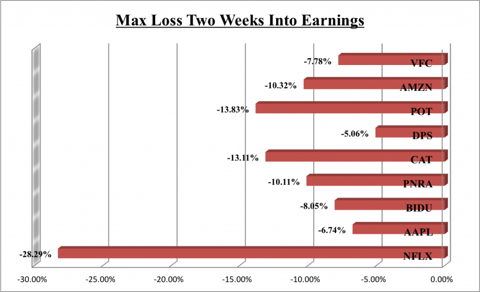 Here are some positions that we like:
Apple - We continue to like Apple, and we believe that buying into earnings and selling it before earnings is a winning play. One way to do this is through options that expire Apr20. We believe that the $580 level is definitely going to be strong. Additionally, we have never seen a max drop of more than 6% on earnings, and of the companies the risk/reward seems best for this company.
Dr. Pepper Snapple - Interestingly, DPS is the company to see the least max loss of 5%. The Monday open for DPS was just above 39, so we would say that the $37 line looks safe into next Friday. The $35 puts are not really giving much premium right now. We would love to open a sold $35 puts position on any weakness.
VF Corp. - This stock is one of our favorites. We have the stock Buy-rated with a solid PT at $170. We believe that the stock looks good to hold the $140 line by next Friday after earnings. We think the 140/135 bull put spread for May18 is a great position to play off the earnings report, and we think that line should hold moving through next week.
The rest of the stocks have too large of max drawdowns for us to really like them, but some of them are appealing.
Disclosure: I am long AAPL.
Additional disclosure: I am short AMZN.