Since 2003, international investing has been twice as rewarding for about twice the risk. When markets around the world have surged higher, the returns in Europe/Asia have doubled American stock assets. And when world markets have struggled, the declines in Europe/Asia have often fallen twice as hard as corresponding domestic declines.
(So it all seems fair... right? It's all about the risk.)
Perhaps.
In recent months, however, there have been unique developments in certain sectors. And I can find no better example of the unique changes than the one that can be found in the telecommunications space.
U.S-based telecom via the iShares Dow Jones Telecommunications Fund (NYSEARCA:IYZ) has been in a bit of a funk over the last 6 months. The returns have been negligible. And it even underperformed the broader S&P 500 SPDR Trust (NYSEARCA:SPY).

Yet a funny thing has happened on the way to the global telecom gala. The iShares S&P Global Telecom Index (NYSEARCA:IXP) packed on a whopping 20% in the exact same time frame. This is the same industry... just global versus U.S.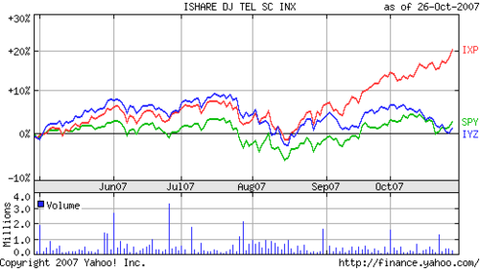 Both IXP and IYZ have AT &T (NYSE:T) as a holding. They both have Verizon (NYSE:VZ). So what does Global have that U.S. telecom currently lacks?

For one thing, IXP has diversification. It diversifies across the biggest names in the world, including England's Vodafone (NASDAQ:VOD), Spain's Telefonica (NYSE:TEF), Mexico's America Movil (NYSE:AMX) and China's China Mobile (NYSE:CHL). The lack of sector diversification, then, is offset by the worldwide exposure.
Even more remarkable was Global Telecom's performance during the global credit sell-off- both the Global and the U.S. telecom funds fell roughly the same distance (10%) from peak to bottom. Neither fared any worse than the broader U.S. market's decline vis-a-vis the S&P 500 SDPR Trust (SPY).
Granted, Global Telecom has benefited enormously from exposure to emerging market run-ups in China and Latin America. (China Mobile, Telefonica and American Movil have been hugely successful.) Meanwhile, U.S. telecom has rather significant exposure to ailing Sprint Nextel (NYSE:S) and beleaguered Qwest Communications (NYSE:Q).
Nevertheless, I feel as though I am making an excuse for U.S. Telecom (IYZ). The truth is, if you like the sector, it make more sense to have a worldwide approach.
There are two choices, actually. The iShares S&P Global Telecom Index (IXP) has done rather nicely. However, if you are more inclined to go completely offshore, WisdomTree's International Communications (DGG) has a stellar 4.3% yield. (Global Telecom IXP offers about 2%.)