A lot of good things have been said about and written about Boeing (BA) over the last year; it has been strong. The company has posted increasing profit for three quarters in a row. In the most recent quarter, net income rose by 19.7% from the year-earlier period. Net income rose 31.2% in the quarter before that, and 19.6% in the second quarter of the last fiscal year.
Revenue has gone up for three straight quarters. In fourth quarter of the last fiscal year, revenue rose 18.2% to $19.55 billion, while the figure rose 4.5% in the third quarter of the last fiscal year from the year earlier and 6.2% in the second quarter of the last fiscal year.
Boeing has been staying on top of things, as the increase in fuel costs hit the airlines. Boeing is addressing that in real time as they battle Airbus to become more fuel efficient. The world's largest plane-makers are revamping their workhorse models with bigger engines to offer double-digit percentage fuel savings, and the competition fierce. The point is the company is always at the forefront of competing with Airbus and others to stay at the top of global sales.
Long term, Boeing will continue to grow, but for the next few months, it may look like they will pull back before a long term climb before the year's end. The stock shows a gradual peak at 75.9 toward the end of February, and gradually moving down since then. This is very gradual, and gives us an opportunity to capture a short term profit through the summer. Look at the Bear Put Spread:
(click to enlarge)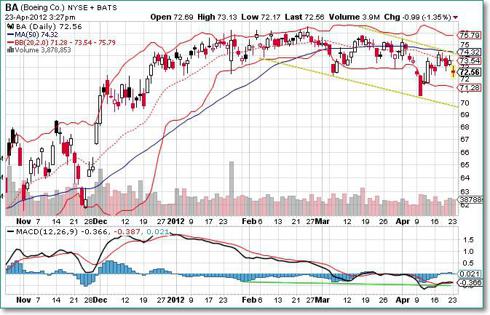 The Options Play
The stock is moving down, and all indicators show bearish tendencies with no sign of a let up. Despite a good showing possible at earnings, we think it will continue down.
Buy an August 2012 "72.50' put option (priced at $4.35)
Sell an August 2012 "70.00" put option (priced at $3.20)
Net Debit to Star: $1.15
Maximum Profit: $1.35
Reasoning behind the Trade
Boeing is in a down trend presently.
MACD Histogram is continuing to show strong downward movement.
Markets are looking weaker and Boeing will follow the markets.