Last year, world equity markets obsessed over the movement of sovereign debt yields in Portugal and Greece. Here in 2012, Spanish and Italian bond yields have risen enough to scare investors back into the perceived safety of U.S. treasuries. In fact, iShares Barclays 7-10 Year Treasury Bond Fund (NYSEARCA:IEF) is near 52-week highs.
Click to enlarge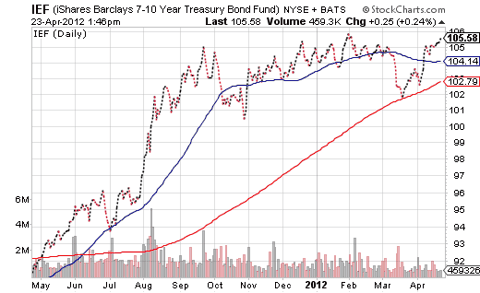 Click to enlarge
Unfortunately, concerns about the third and fourth largest European economies aren't the only issues weighing on sentiment. Now there are geopolitical battles, from the upcoming French election to a breakdown in party talks in the Netherlands. Predictably, both iShares MSCI France (NYSEARCA:EWQ) and iShares MSCI Netherlands (NYSEARCA:EWN) have surrendered all of their double-digit, year-to-date price gains.
Click to enlarge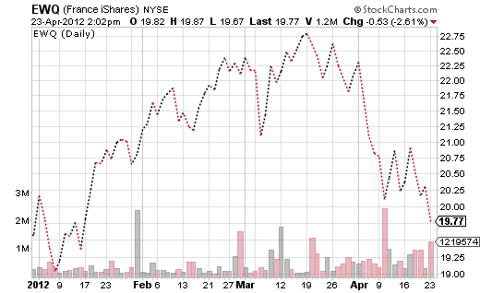 Click to enlarge
How worried should you be? Well, if you haven't been bottom fishing in the European stock ETF tank, you're probably fine. That is, you're probably fine for now. Yet Europe's quagmire is still an enormous drag on emerging stock assets as well as U.S. stock assets.
Most commentators in the mainstream media have been cheer-leading the notion that the European debt crisis was fairly well contained. What's more, armed with this knowledge, investors could be more confident in wading back into the stock pool. Yet a tenuous alliance between Germany's Merkel and France's Sarkozy ("Merkozy") is likely to fall by the wayside, creating more drama in Europe's ongoing saga.
Keep in mind, the likely winner in France, Hollande, is pushing for a 75% income tax on the top marginal bracket. Indeed, it's difficult to see how capitalistic financial markets could embrace the demands of the Socialist Party's candidate. For that matter, it's difficult to imagine an economy thriving on the backs of fewer and fewer high income producers, as many would have very little incentive to increase their earning power.
In March, I suggested that aggressive investors consider shorting iShares MSCI Spain (NYSEARCA:EWP). Aggressive investors may even wish to take a look at adding iShares MSCI France to the list as well.
Of course, most of my clients and readers are more moderate and/or conservative in their pursuits. It makes more sense for most folks to avoid exposure to the region, increase cash as an asset class, employ hedges or stop-limit loss orders, as well as embrace your high income yielding ETFs like Guggenheim Multi-Asset Income (NYSEARCA:CVY) and PowerShares High Yield Corporate Bond (NYSEARCA:PHB). After all, it could be yet another bumpy ride into the summer.
Disclosure: Gary Gordon, MS, CFP is the president of Pacific Park Financial, Inc., a Registered Investment Adviser with the SEC. Gary Gordon, Pacific Park Financial, Inc, and/or its clients may hold positions in the ETFs, mutual funds, and/or any investment asset mentioned above. The commentary does not constitute individualized investment advice. The opinions offered herein are not personalized recommendations to buy, sell or hold securities. At times, issuers of exchange-traded products compensate Pacific Park Financial, Inc. or its subsidiaries for advertising at the ETF Expert web site. ETF Expert content is created independently of any advertising relationships.