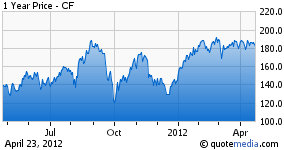 We discussed our favorite fertilizer stock, CF Industries (CF), in an article on February 15 here.
We recommended the stock at $172 and change with a target price of $196 and it subsequently rallied to a new high of $195.48 two weeks later. The stock closed today at $182.31, down $4.36 on overall stock market weakness.
Corn and wheat actually rallied across all contracts, with December corn up 5.75 cents to $5.42 1/2 and December Chicago wheat closed at $6.70 up 8 1/4.
Today, I'd like to recap where CF's Q1 2012 earnings will come out and discuss the stock's price performance, which is currently impacted by at least three main factors right now.
One is the Q1 earnings release on May 3 and comments to be provided by the company on the May 4 morning conference call.
Two is the next WASDE report which will provide the first USDA estimate of yield for the U.S. 2012 crop of corn as well as continuing discussion of coarse grain production in key countries such as Brazil, China, Ukraine and Argentina.
Three is the reaction to "outside" variables such as the debt crisis in Europe.
Note we sold CF on Friday in the $187.22-$187.40 range due to the Sunday French presidential election and the risk of President Nicolas Sarkozy losing the first round. This turned out to be prescient. We bought back CF today in the $180.25 to $181.90 range.
CF has been been trading in a narrow range between approximately $170 and $195 since mid-January. The question is, will CF finally break above the high set on February 28? Or will it ultimately fail and break down below $170 (the 100 day moving average)?
(Click to enlarge)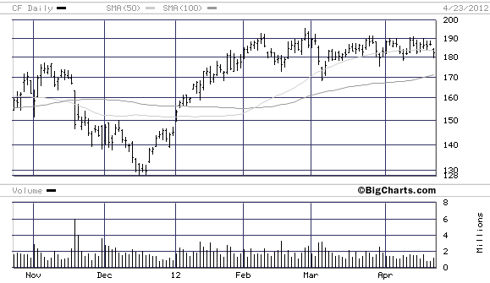 Source: BigCharts
So far the spring 2012 corn planting season in the U.S. Midwest has been the opposite of what was experienced in 2011. This year, an extraordinarily warm and dry winter and March have caused significant early planting of corn, whereas last year heavy precipitation and major river flooding caused much corn planting to be delayed to June, and flooding caused high crop abandonment and prevented planting claims. The 2011 corn crop was hence smaller than expected due to low yields, and corn prices remained elevated until a fall downdraft.
What this has done to fertilizer application this year is interesting. Let's take a bellwether nitrogen fertilizer, dry granular urea, which can be easily applied by broadcasting on bare farmland during the preplant.
Last year, we saw a big spike in urea prices from mid-April to June, underpinned by a rising corn price environment.
In spite of the 2011 planting delays and crop condition problems, CF experienced an excellent 2011 in terms of revenues and cash flows, with a massive $628 million in Q2 cash flow on $1.8 billion in sales, after a decent Q1 of $406 million cash flow on $1.17 billion sales. Note: these are cash flows before customer advances and other working capital flows.
The year began with a Christmas lull when very little commitment was being made by fertilizer dealers and farmers. Understandable, due to a constant barrage of headlines that Greece was going to/not going to achieve its debt restructuring and receive the bailout money needed to make March debt maturities.
In spite of the headlines and pessimism in the fertilizer market at the turn of the year, much ammonia was applied to winter fields. As liquid anhydrous boils at -33 C under atmospheric pressure, applying it in the cold of winter when snow cover is low as was the case this year, was actually beneficial as less is lost to the atmosphere. CF reported decent ammonia application rates in late 2011 and early 2012 compared to typical years.
The seasonal ordering of urea did not gain steam until March when the Greek deal was signed on March 9. and became frantic with peak wholesale pricing reaching $760/st at NOLA (the New Orleans port) in early April.
Retail urea prices also spiked strongly, with reports of scare supplies as dealers scrambled to get Gulf urea up river or receive imports from Eastern and Pacific sea board ports.
(Click to enlarge)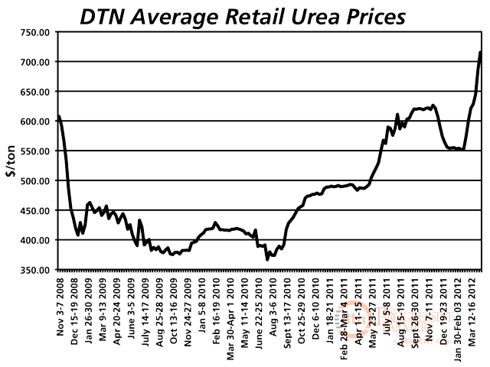 Source: DTN/Telvent
CF entered the year with little in the way of forward sales (only $257 million in customer advances), relying on spot pricing. They also had low inventories of $304 million as of year end 2011.
So CF's Q1 will be highly dependent on what was its ability to stage ammonia and dry fertilizers in the corn belt, and execute on its distribution strategy during the rush to get product by dealers experienced in March.
Another factor aiding CF is that its biggest customers are major coops such as CHS and Growmark. These organizations accounted for almost 20% of CF"s 2011 revenues and the heads of these organizations sit on the CF Industries board. Therefore, there is less dependence on the small farmer making a difficult decision to lock in relatively high fertilizer prices in what has been a declining new corn price environment.
Overall, we expect CF's 2011 nitrogen revenues to come in at $1.03 billion versus $925 million in Q1 2011, up 11%. Lower natural gas prices would normally have improved gross margins, but the company's decision to hedge 65% of 2012 natural gas requirements at approximately $4 strip will limit much improvement on the cost side.
Regarding phosphates, we saw less upside price action on DAP and MAP, CF's main two products. In addition, CF sells phosphate internationally as well as domestically, in an approximate 50-50 split.
CF decided to curtail phosphates in Q1 for three reasons. One was slow agricultural phosphate demand and flat pricing in the U.S. Second was production curtailments by U.S. market leader Mosaic Company (MOS) and major international supplier Phosagro in Russia.
Third was the decision to overhaul the CF Tampa dock facilities which impeded regular importation of ammonia CF makes to Plant City DAP and MAP plant, from its Port Lisas Trinidad facility joint venture, as well as imports through KEYTRADE, its international fertilizer trading subsidiary.
We expect Q1 2012 phosphate revenues to be about $181 million - $190 million, down from the $248 million in sales generated in Q1 2011.
Overall, CF's 2012 Q1 revenues and cash flow we estimate at $1.21-1.22 billion and $425 million.
Given the share count has been reduced from about 72 million to 65.2 million, barring any additional share buybacks, CFPS will come in at $6.52 versus $6.16 in Q1 2011, a gain of 6%.
We believe that CF Industries will continue to trade in the above price range until after the May 10 USDA corn yield estimate is out, and the second round presidential election runoff in France is resolved (May 6).