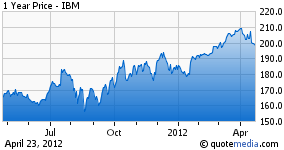 IBM Corp. (NYSE:IBM) is opening a new branch office in Doha, Qatar. The increased presence in the Middle East region is in line with IBM's global geo-expansion strategy, an initiative aimed at strengthening the company's presence in growth markets around the world by providing services and solutions to an expanding base of customers and partners.
Nearly 60% of IBM's growth markets revenue is now outside the BRICs (Brazil, Russia, India, China). Revenue from growth markets will approach 30% of total geographic revenue by 2015.
"IBM is placing a strong emphasis on investment in the Middle East as we recognize the opportunities presented by high growth rates and an increasingly competitive market. Our expansion strategy in the region is significant and ongoing, and Qatar is a key focus in the market as we undertake that expansion," said Amr Refaat, IBM General Manager for Middle East and Pakistan.
Growth markets provide industries with the opportunity to increase revenue and sales without gaining market share. These markets are characterized by falling prices and increased competitiveness.
IBM first entered the Middle East in the 1940s and has been successful in delivering solutions and services to clients and partners across a variety of key industries including the public sector, banking, healthcare and education.
The broader plan is growth through investment in the Middle East and across Africa. A branch office was opened in Mauritius last month, and in Angola, Senegal and Tanzania in 2011.
Qatar is one of the world's fastest growing economies with a national vision to create a sustainable and diversified economy by 2030.
Qatar has a fast growing, relatively well educated population. The economy is primarily based on exports with central government revenue being nearly half of GDP. The central government runs a large surplus. Mobile phone and Internet penetration is relatively high compared to other less developed nations. Nearly half of the population has two cell phone subscriptions.
IBM has been successful in its operations in the Middle East. The expansion in Qatar should create value for shareholders by increasing IBM's presence in Frontier markets. As less developed countries build the infrastructure and institutions to support thriving capitalist societies, IBM's presence in the region will allow the firm to leverage its legacy in the region to support future sales growth in increasingly wealthy nations.
Disclosure: I have no positions in any stocks mentioned, and no plans to initiate any positions within the next 72 hours.