I promised myself that I would not do a follow up on my original Facebook (NASDAQ:FB) article written back on January 28th. However as we get closer to what is expected to become the largest IPO the United States has ever seen, I feel it is important to reiterate my opinion on what investors should do.
Why I Would Not Buy Shares Of This IPO
My opinion has not changed from my original article, that Facebook is another version of MySpace though at least has been able to monetize itself successfully as a private company, so far, maybe.
It has also had the very good fortune of growing along with Zynga (NASDAQ:ZNGA), which accounts for roughly 15% of Facebook's entire revenue number as reported here. Not to mention the enormous income it generates for Facebook.
Unfortunately, Zynga has not been able to get out of its own way, and the earnings report due out on the 26th might not be up to snuff. At least the share price has been acting like they will miss estimates: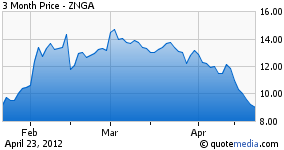 Shares have slid below $10.00/share once again ($9.00/share on the 23rd), and IF the numbers actually do come in poorly, the impact it will have on Facebook going forward good be dramatic.
The impact cannot be understated because not only does Facebook rely on Zynga, but FB also announced a decline in revenues from last quarter as reported in the WSJ:
"For the March ended quarter, Facebook posted total revenue of $1.06 billion up 45% from the same period last year but down 6% from the fourth quarter. The sequential decline in revenue came despite a steady increase in monthly active users to 901 million, from 845 million in December."
This bothers me because I believe that when an IPO is ready to break all records, shouldn't they be growing quarter over quarter? Especially when active users increased by 8% in the same quarter.
Also noted:
"Facebook, in its regulatory filing, said average revenue per user, or ARPU, declined 12% from the fourth quarter. The company attributed the decline to "seasonal trends" and the fact that user growth was higher in markets where it generates less revenue per user."
Pretty fancy spin on a significant decline from the largest portion of their revenue and income: advertising.
Now get this:
"Net income for the quarter was $205 million, down from $302 million in the fourth quarter and compared with $233 million a year earlier. On a per-share basis, earnings dropped to 9 cents from 11 cents."
Whoops, another little clue in my book.
Combine the decline in average user revenue and the decline in Zynga revenue, and I do not see a pretty picture developing here, do you?
What about expenses? The report notes this;
"Quarterly expenses jumped to $677 million from $343 million a year ago as Facebook spent to expand its data center operations, hire employees and market its service to users, developers and advertisers.

The increase in expenses comes as social media heavyweight has unveiled a series of acquisitions in recent days-agreeing to acquire popular photo-sharing app maker Instagram for $1 billion in cash and stock in what is the company's biggest acquisition to date."
Wait a second. Isn't that the acquisition that Mark Zuckerberg made behind the back of Facebook's Board of Directors? Yep.
Obviously as a private company that he owns, and calls all the shots, he can do what he wants. I wouldn't want to be on that board, though, and if I was already on it, I would resign, now. If it were a public company what would shareholders be thinking right about now?
One last tidbit from the report:
"Facebook said videogame maker Zynga Inc. directly accounted for approximately 23% of its first quarter revenue."
Hey that is 14% more than previously thought! I am getting confused, but not confused enough to just close my eyes and buy shares of EITHER Facebook or Zynga right now.
My Opinion
I would not touch the Facebook IPO. If it rockets up, so be it. I would not be getting it at the "right" price anyway. As for Zynga, I wrote this article, that the way to play the Facebook IPO was with options in Zynga.
I have changed my mind. I won't touch either stock. Will you?
Disclaimer: Please do your own research and do not buy or sell any security based on opinions expressed here. Your personal investment needs and goals, as well as risk tolerance should always be evaluated beforehand.
Disclosure: I have no positions in any stocks mentioned, and no plans to initiate any positions within the next 72 hours.