Market Recap: The market had a rough start to the week as the market sold off on fears stemming from overseas markets. First, China came out with data that showed that factory work contracted in April once again, which sent Asian shares down. That news was coupled with a weaker than expected Eurozone data point that showed a larger contraction in the economy there. Further, Nicholas Sarkozy's first round loss to challenge Hollande spelled fear over Europe. Those two news pieces, along with some weaker earnings for Kellogg (NYSE:K) and Hasbro (NASDAQ:HAS), left the market without much of any catalyst.
We are consistently preaching for a neutral approach to the market right now. Monday's drop can easily be neutralized by good data at home and earnings Tuesday, and the market is moving strongly in both directions with large gaps that make it hard to call direction carefully. Therefore, we are trading more pair trades with equities and doing more iron condors and reverse iron condors. Here is a pair trade idea:

Two Trades:
The pair trade works by buying one position and hedging with another. Typically, we can look for one stock in an uptrend and pair it with a stock in a downtrend. From there, we value the position based on the ratio of the two prices. One pair we like right now is long Seagate Technology (NASDAQ:STX) and short Peabody Energy (BTU).
Both companies reported earnings last week. STX had great earnings and is remaining in a solid uptrend while BTU's earnings were decent. BTU is going to remain weak as long as coal remains weak, and we do not foresee the commodity rising quickly any time soon. Seagate is on fire right now, and their earnings should continue them in this uptrend.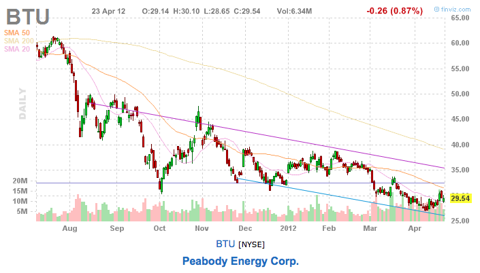 Tuesday's Outlook:
The market's outlook for Tuesday does not look great. We believe that the market has a lot of potential to correct itself from Monday if certain market factors improve. First, Consumer Confidence and New Home Sales loom large Tuesday. If we can see a good print from Consumer Confidence, the market will have the ability to increase into Tuesday for sure. On top of this, we will like to see what kind of earnings we will get from 3M (NYSE:MMM), Coach (NYSE:COH), AT&T (NYSE:T), and United Steel (NYSE:X). These earnings will also be impactful. As for Asia and Europe, we have limited reports for the markets. We see us taking the lead.
Analyst Moves:
The interesting moves for analysts was an upgrade of AutoZone's (NYSE:AZO) price target from $410 to $420 from Barclays. We saw the move as a step in the right direction, as we have priced the company at over $500. We believe they still have a lot of upside from current levels. On the flip side, First Solar (NASDAQ:FSLR) received yet another downgrade from Maxim Group as analysts take sides on the company. We continue to maintain Buy rating as we believe that the company has a lot of positives with recent restructuring measures.
Commodity Talk:
We ended our short on crude oil with Ultrashort Proshares Oil (NYSEARCA:SCO). We believe that the commodity is still weak and should move below $100, but we would guess that the commodity will get some run up into inventories on Wednesday as its likely that the dollar will reverse some Tuesday and Wednesday. Gold, on the other hand, was more dominated by the dollar. We still believe the $1600 level is a limit to downside for gold.
Oxen Group Moves:
We had a mixed day as we took gains on our SCO position. At the same time, we took losses on CF Industries (NYSE:CF) and Coach that we added to our Equity Portfolio. We added a pairs trade long in Ventas (NYSE:VTR), short Biogen Idec (NASDAQ:BIIB). We added a reverse iron condor in Las Vegas Sands to our Earnings Alpha Portfolio as well as reverse iron condor to Direxion Financial 3X ETF (NYSEARCA:FAS) in our Options Porfolio.
We have the following positions. In our Short-Term Equity Portfolio we are long Teva Pharmaceuticals (NASDAQ:TEVA) and Ventas . We are short Biogen Idec . In our Options Portfolio, we are long Dollar General (NYSE:DG), Monster Beverage (NASDAQ:MNST), Visa (NYSE:V). We are short United States Oil (NYSEARCA:USO). We have a reverse iron condor in Direxion Financial 3x . In our Earnings Portfolio, we are long Ace Limited (NYSE:ACE), Ashland (NYSE:ASH), Coinstar (NASDAQ:CSTR), and Goldman Sachs (NYSE:GS). We are short Amazon.com (NASDAQ:AMZN). We have reverse iron condor in LVS.
Chart courtesy of finviz.com.
Disclosure: I am long TEVA.