Many high beta shippers have once again set a course down the charts, after starting the year cruising into the green. Shipping can undergo significant volume reductions and increases, and the shares of shippers are no different. Many shippers expanded their fleets prior to the subprime collapse that triggered a global financial crisis.
Shipping volumes have since declined and then stabilized, but the industry was left with its present overcapacity and concerns over future demand. Moreover, much of this overcapacity was leveraged, leaving several competitors with problematic levels of debt and an aging unused fleet.
These problems put a fear of looming bankruptcies into the shipping industry, where too many shippers have too many ships bought with too much debt, and now there is too little demand and weaker shipping margins. The shipping business is highly fragmented and overcapacity may keep margins low for a while. Many other issues could also affect shipping, including potential European failures, Asian recessions and further Middle East instability, among other risks. Shipping demand can also eventually grow to where present capacity cannot satisfy it.
In 2011, several shippers fell by as much as 80%, with most bottoming out along with the broader market around the beginning of the fourth quarter of 2011. Several then began to appreciate at a rate far faster than the broader market, with many gaining well over 50% within the first two months of 2012. Nonetheless, several of these shippers have now given back most or all of their recent gains, and now find themselves trading at or below their starting prices for the year, while others are still performing rather well.
Below are equity performance review statistics for six publicly-traded, high beta, low price shippers: DryShips (NASDAQ:DRYS), Eagle Bulk Shipping (NASDAQ:EGLE), Excel Maritime Carriers (NYSE:EXM), Genco Shipping (NYSE:GNK), Navios Maritime Holdings (NYSE:NM) and Overseas Shipholding (NYSE:OSG). Several other comparable shippers certainly do exist. I have included their 1-month, 2012-to-date, 6-month and 1-year equity performance rates.
(Click to enlarge)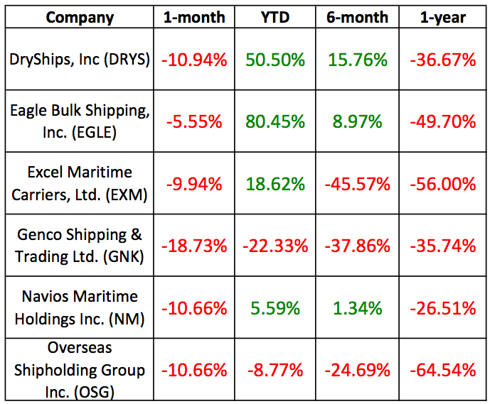 So far in 2012, these listed shippers have appreciated by an average rate of 20.68%, making it one of the better performing industries this year to date. Nonetheless, the group is down 44.86% from one year ago, and they average an 11.29% decline over the last month.
These extreme moves highlight the capricious valuations of these shippers, and the potential for them to still appreciate considerably or possibly continue to descend. It can also be seen that some of these shippers are still doing quite well so far this year, and it is possible that performance rates in this group will continue to diverge based upon present performance, and investors assigning a higher likelihood of survivability to particular shippers over others.
Any signs of European economic stability will likely bode well for these companies, but continued economic problems appear to be on the horizon. Similarly, potential Asian cooling would also likely reduce demand for shipping capacity, further hitting these shippers.
Under Dow Theory, it is often the case that the transportation industries lead the broader market, and some may also conclude that the poor performance by these shippers is indicative of a correction that is looming over the broader market. Over the last month, the S&P 500 is down about 2.5%, or less than a quarter of the average drop sustained by these clearly high beta shippers, while the index is up 6.54% since the start of the year, or about one third of these shippers' average gain so far this year.
These companies offer significant risk and potential returns. Their ownership should be limited, though exposure to shipping and transportation is generally considered appropriate in a broadly allocated portfolio.
Disclosure: I have no positions in any stocks mentioned, and no plans to initiate any positions within the next 72 hours.
Disclaimer: This article is intended to be informative and should not be construed as personalized advice as it does not take into account your specific situation or objectives.