Summary
Dell (DELL) fumbled… But the company's strategic transformation is showing signs of success. The market doesn't like Dell, but Dell's CEO and long-term value investors do. The company has growth potential, but growth is not necessary, since Dell is cheap and has minimum downside risk.
I have been bullish on Dell since I wrote an article on HP (HPQ), in which I argued that Dell is a better buy than HP but disclosed that I was not long Dell at the time. Now that I have taken a long position in Dell, I would like to follow up on why I did so.
Dell Fumbled…
As early as 6 years ago (FY06), Dell's strategy was to emphasize standards-based technologies and establish itself as the low cost leader. However, following this strategy has led to a period of very poor performance.

But Dell's strategic transformation is showing signs of success
By the end of FY07, Michael Dell once again took charge (the only time Michael Dell was not CEO of Dell was from 2004-2006), and began to lead the company's strategic transformation. From then on, the company will no longer pursue cost leadership and standardized technology. Instead, Dell has set its sights on becoming an end-to-end technology solutions company with differentiated products and a much higher margins profile. Yes, Dell wants to be IBM (IBM).
If you ask Meg Whitman, HPQ's CEO, transformations can be painful and take several years to achieve. Well, the years have passed, Dell has gone through the pain, and signs of success are flowering.

FY12 revenue is flat after adjusting for the 53rd week.
Dell has shown clear, stable progress towards its strategic goals. Gross, operating, and net margin, as well as EPS, has shown strong growth for two consecutive years. (The 22.3% gross margin achieved in FY12 is the highest for Dell in 13 years-- FY99 was higher at 22.5%.)
Dell's recent success is the result of shifting its portfolio to higher valued products and services by emphasizing expansion of its enterprise solutions and services, and by focusing investments in growth countries, with a particular focus on BRIC countries.
For example, from FY08 to FY12, Dell has steadily increased the % of revenue coming from services to 19.6% from 12.1%.
After 5 years of transformation, Dell has emerged as a more competitive business with a much more attractive portfolio of products and services, which now dominate and complement its desktop and laptop business.
The market doesn't like Dell
Dell is currently a very unpopular stock, as the market continues to fixate on its weak PC business and U.S. consumer segment. For example, in FY12, Dell's consumer segment-- the company's weakest segment-- saw a revenue decrease of 4%, driven by a 12% decline in desktop PCs. Revenue from the U.S. decreased 18%, offset by an increase of 10% outside of the U.S. However, the consumer segment only accounts for 19% of Dell's total revenue, and a much lower % of the company's profits, given the segment's low margins.
Areas of strength more than offset these pockets of weakness, which is why Dell's margins and EPS have gone up. For example, revenue from Dell's enterprise solutions and services increased 6%, and revenue in the Asia Pacific and Japan region grew 13% year-over-year. These fast growing businesses should also command a much higher multiple than the contracting businesses which they are replacing.
In addition, given Dell's improved mix of complementary products and services (i.e. becoming an end-to-end IT solutions company), I do not think the desktop and laptop business is as hopeless as the market believes.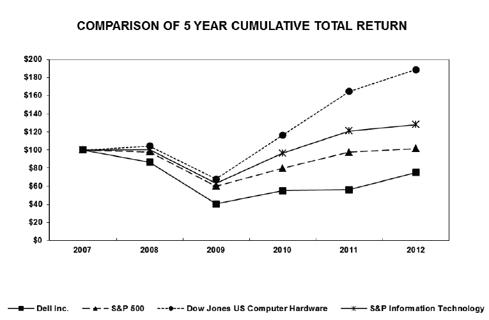 But Dell's CEO and long-term value investors like Dell…
Michael Dell, Dell's billionaire founder, CEO and Chairman, purchased ~18 million shares in late 2010 and early 2011. The company is still undergoing transformation, and may have a few hiccups along the way. However, that isn't a major concern for long-term value investors like David Einhorn and Mason Hawkins, among other long-term value investors who are buying Dell.
Dell has growth potential upsides
I believe Dell's strategic vision is clear and the transformation will continue. With continued change in Dell's product mix, the company will continue to deliver substantially higher margins and earnings. At the same time, with over 50% of its revenue coming from outside the U.S., the company is better positioned to benefit from growth markets. Given the company's huge pile of cash and strong cash flow, it has enough firepower to overcome short-term challenges while building long-term, profitable businesses.
But upsides are not essential since Dell is cheap and has minimum downside risk.
Dell has $14.8 billion in cash and short-term investments, $9.3 billion in long-term and short-term debt, and is generating $4.9 billion in free cash flow. The market value of the company's equity is $28.5 billion.
There are a few ways we can think about this, none of which assumes any growth (or contraction) in cash flow.
In 2.8 years, Dell's accumulated free cash flow + current cash position = Dell's current market value
In 4.7 years, Dell's accumulated free cash flow + current cash position = Dell's enterprise value (i.e. pay off the equity owners + the debt owners)
Another significant upside catalyst will be the company's share buyback program. From 2001 to 2007, Dell has spent ~$32 billion repurchasing stocks. In 2008 and 2009, the company didn't repurchase any, and in 2010, only $800 million. In 2011, Dell purchased ~$2.7 billion worth of shares and authorized another $5 billion in repurchases.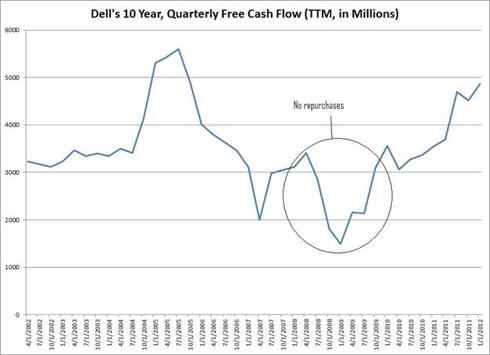 Sitting on a gigantic pile of cash and rising cash flow, Dell is capable of repurchasing another $32 billion worth of shares over the span of 7 years, as it did from 2001-2007. Dell's current market value, again, is $28.5 billion-- you do the math.
Dell is a profitable business, and has been profitable for at least the past decade (with free cash flow higher than net income for 8 out of the past 10 years). If the company didn't bleed cash during the financial crisis, it will not bleed cash now that it is much better positioned in a much stronger economy. I see very little downside risks going long on Dell.
What do you think?