A leading manufacturer and supplier of technology solutions for the energy industry, FMC Technologies Inc. (NYSE:FTI) is expected to report its first quarter 2012 earnings results on Tuesday April 24, after the close of trading.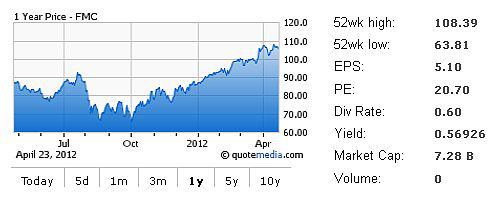 The Zacks Consensus Estimate for the quarter is a profit of 44 cents per share, with an upside potential of 2.27%, on revenue of $1,393.0 million.
Previous Quarter Recap
FMC reported fourth quarter 2011 earnings per share from continuing operations of 41 cents, which lagged the Zacks Consensus Estimate of 51 cents. However, compared with the year-ago period, FMC's earnings per share improved 20.6% (from 34 cents) on the back of strength in surface systems orders.
Revenues at $1,500.5 million were up 36.1% year over year and above the Zacks Consensus Estimate of $1,432.0 million.
As of December 31, 2011, the company had cash and cash equivalents of $344.0 million and debt of $623.6 million, with a debt-to-capitalization ratio of 30.5%.
Agreement of Analysts
The analysts exhibit a mixed sentiment for FMC's to-be reported quarter based on its diversified product portfolio, specialty service capabilities and proprietary technological expertise, partially offset by unstable oil and gas fundamentals, international business risks and operational disturbances.
In the last 30 days, out of the 19 analysts covering the stock, two have raised their estimates for the first quarter, while the same number of analysts slashed their estimates. In the last 7 days, one analyst has revised the estimate downward, while none have raised it.
Magnitude of Estimate Revisions
Taking into effect the earnings revisions by the analysts over the last 30 days, the Zacks Consensus Estimate for the first quarter of 2012 dropped by a penny to 44 cents.
Surprise History
FMC exhibited a mixed earnings surprise trend over the last four quarters. The company recorded a minimum surprise of negative 19.61% in fourth quarter of 2011 while a maximum of 6.38% in the third quarter. On average, the earnings surprise was a negative 8.91%.
Our Recommendation
We believe that FMC Technologies, supported by its dominant market share, technology leadership and efficient execution skills, remains better positioned to navigate the uncertain environment than other industry players. We are further encouraged by the company's recent subsea equipment deals with industry giants like Royal Dutch Shell plc (RDS.A), Petroleo Brasileiro S.A. (PBR), Statoil ASA (STO) and Total SA (TOT).
However, the uncertain commodity price outlook and soft global economy continue to weigh on the company. As such, we expect the growth potential of FMC Technologies to be restrained and see limited upside from current levels.
Hence, we maintain a long-term Neutral rating on the stock. FMC Technologies currently retains a Zacks #3 Rank, which is equivalent to a short-term Hold rating.