I know it is a controversial topic and many won't agree with me. The way I see it, the higher the fear and the more problems the better. I am not a market timer and I am not a trader. I am hunting for quality businesses that trade at deep discounts to intrinsic value. With increased stock market volatility and a resurface of the 'European debt crisis', opportunities emerge again.
Spain's economic problems are neither new nor are they surprising. We all know that Spain experienced a real estate bubble (through which it worked over the last 3 years) and exhibits high debt levels and unemployment rates. This is not new information. There is no European debt crisis and there is not a currency crisis.
My reasoning for this view is the following:
Casa Greece has remarkably, intensely and aggressively pushed the issue of a possible sovereign debt default on the tables of all decision makers in Europe and international institutions. The world doesn't work the way that the IMF, the ECB, the national treasuries, the national central banks and the European financial institutions do. The decision makers in the EU will focus on a problem and working through the issue. They have proven in the past, in essence, that they can come together and are able to launch concerted efforts to address risks and reduce uncertainty. Where does this extreme negativity and pessimism come from that the investor finds himself exposed to all the time? Problems are identified, constructively addressed and worked through, and confidence will be restored. The point that Spain "now has to pay more than 6% interest" is blown totally out of proportion.
Maybe it helps to insert some interesting numbers to the discussion:
The IMF estimates that Spain's 2011 debt ratio as a percentage of GDP stands at 68.5%. EUROSTAT gives a 2011 ratio estimate of 66%. Keep in mind, those are estimates for 2011, which ended only four month ago, so they are not meaningfully dated. For informational purposes (EUROSTAT and IMF 2011 estimates): The U.S. is estimated to have a ratio of around 103%, the U.K. between 82-85%, Japan over 200% and Hungary between 80-83%. How much have you heard in the news about the ballooning debt and refinancing issues of those countries?
General government gross debt (% of GDP) (Click to enlarge)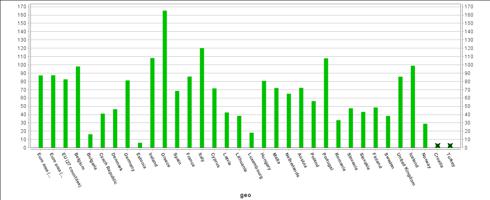 Source: Eurostat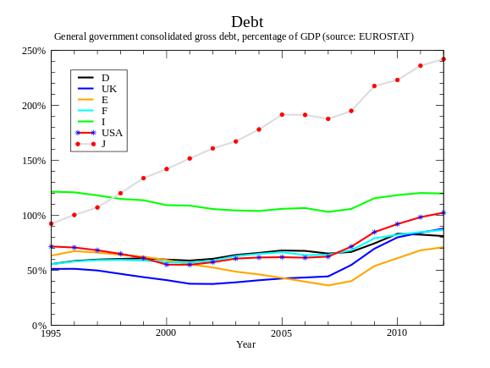 In my opinion, Mr. Market is currently overly pessimistic in regard to Spain, pricing in a recession, maybe in all of Europe, and quoting unreasonable prices for quality companies. My readers know that Telefonica is one of my long-term, high yielding, high-conviction holdings.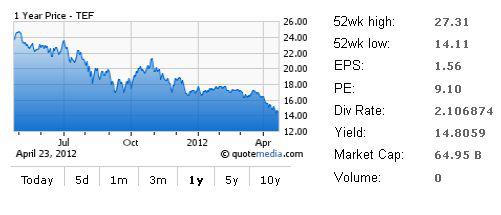 I noticed that Telefonica (NYSE:TEF) has become even cheaper during the last week. Investors now pay around $14 (around $28 a year ago) for a recession-resistant, leading telecommunications company that originates substantial portions of cashflow and earnings in growth markets in Latin America. In additon, investors still pocket a dividend yield over 10% and could be exposed to a great turnaround candidate.
Disclosure: I am long TEF.