There are five different varieties of hepatitis, A, B, C, D, and E. I've recently written about the biotech deals that have been transacted around companies developing a hepatitis C treatment. I made the point that the space is hot and that big pharma is paying billions for such acquisitions. I've also mentioned that investors should be paying close attention to Medgenics (MDGN), which currently has a hepatitis C treatment in clinical trials, and is only valued at $53 million.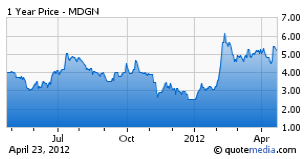 I recommended the stock when it was trading at $3.50 per share on February. In those two months, the stock has seen an increase of 56%, but that rise may be nothing compared to what I believe will happen with Medgenics after Monday's development involving Orphan Drug Application for hepatitis D.
On Monday, Medgenics announced that is has filed INFRADURE™ in the treatment of hepatitis D for Orphan Drug Designation with the FDA. INFRADURE is based on Medgenics' proprietary, platform tissue-based Biopump™ technology which uses the patient's own tissue to continuously produce and deliver therapeutic proteins, such as interferon-alpha for use in the treatment of hepatitis. This application is supported by safety and efficacy data already being collected for INFRADURE's treatment of hepatitis C because INFRADURE uses the same treatment for both.
The hepatitis D opportunity is not available to the companies in the hepatitis C space who are developing direct antiviral agents (DAAs) because those agents are specifically targeted to the hepatitis C virus, and are not effective against the hepatitis D virus.
However Medgenics' INFRADURE is a game-changer because it treats hepatitis C, D, or B and may also be effective with A and E. INFRADURE specifically aims to provide the same interferon-alpha but in a plug-and-play manner which basically is designed to guarantee patient compliance, reduces side effects and maximizes efficacy by providing many months of treatment in the physiologically effective range while avoiding the major discomfort and risks of the peak overdoses of the injections, and without the dropout of interferon treatment between injections.
This would apply not only to hepatitis D and to hepatitis C. It would also apply to hepatitis B, where it has recently been shown that long term interferon therapy of a year or more can provide actual "cure" of the disease - seroconversion - in contrast to just keeping it in check with oral antiviral agents, which can't eradicate the virus because it is integrated into the patient's DNA.
Medgenics has the one treatment in development in the market that can treat hepatitis across the board AND Medgenics just applied for Orphan Drug Designation for its INFRADURE for hepatitis D because the number of U.S. patients with hepatitis D is estimated to be considerably lower than 200,000. If Orphan Designation is approved, it could help INFRADURE attain an expedited regulatory approval route for hepatitis D.
Safety, efficacy, and approval of INFRADURE for hepatitis D would certainly help it move along in approval for hepatitis D and B. What is that worth? Although in the U.S. there are under 200,000 people with hepatitis D, the disease affects an estimated 15 million people worldwide.
Said Marlene Haffner, M.D. MPH, former Director of Orphan Products Development at the FDA:
Data support that INFRADURE has a reasonable rationale for treatment of the disease based on its potential ability to continuously delivery interferon alpha, the current standard of care for hepatitis D that is administered by years of repeat injections. Should Orphan Drug Designation be granted, the regulatory approval route for INFRADURE for the treatment of hepatitis D could be significantly expedited.
Let's revisit the recent hepatitis C deals to put into perspective what a treatment for D, C, and B might be worth.
In November, Gilead Sciences (NASDAQ:GILD) bought Princeton, NJ-based Pharmasset for $11 billion for the next generation of hepatitis-C treatments. Vertex Pharmaceuticals, working with Merck (NYSE:MRK), is offering a pill for hepatitis-C, but it has to be taken three times a day though stands the chance to make $2 billion in a couple of years, when approved. Bristol-Myers Squibb (BMY) acquired Inhibitex (NASDAQ:INHX) for $2.5 billion and Roche's (OTCQX:RHHBY) purchase of Anadys Pharmaceuticals for $230 million.
INFRADURE is scheduled to go into human clinical trials in the first half of this year for hepatitis C in Israel. Based on laboratory and animal data that reported up to six months of consistent delivery of interferon-alpha, Phase I clinical trial results should show efficacy based on results seen with EPODURE.
Orphan Drug Designation for hepatitis D may put INFRADURE on track for approval within 12 months. This could blow the doors open for all of Medgenics other drugs which utilize the same Biopump delivery platform.
Once again, we draw your attention to the value of Medgenic's platform technology. In addition to hepatitis D, C, B and potentially A and E, Medgenic's product is being designed for use in hemophilia, multiple sclerosis, arthritis, obesity and diabetes.
We strongly advise our readers to watch this company going forward as we continue to expect even more bullish developments and positive news flow going forward and that this is a multibillion dollar opportunity.
Disclosure: I have no positions in any stocks mentioned, and no plans to initiate any positions within the next 72 hours.