This post is a follow-up to one I wrote last week titled "Time to Buy Zynga Ahead of the Facebook IPO." In that post, I provided a very rough upside price target on Zynga (NASDAQ:ZNGA) based on Facebook's (NASDAQ:FB) disclosure that ZNGA accounts for 12% of its revenue. I decided to dig a little deeper into the numbers to see whether I could get a bit more precise on this relative valuation. I used the following documents: Facebook's April 23, 2012 Amendment No. 4 to Form S-1 with the SEC, Zynga's December 15, 2011 Amendment No. 9 to Form S-1 with the SEC, and Zynga's first earnings report as a public company from February 14, 2012. When appropriate, I include page references to the SEC filings for the respective companies. For example, ZNGA-p56 means page 56 in the Zynga S1 filing.
ZNGA reports that it generated 91-94% of its quarterly revenue from Facebook since the first quarter of 2010. This share stabilized at 93% for much of 2011 (ZNGA-p52). Facebook was responsible for a similar share of ZNGA bookings. ZNGA expects Facebook to represent a substantial portion of its revenues for "the foreseeable future" (ZNGA-p14). ZNGA earned revenues of $1.14B in 2011, so Facebook accounted for roughly $1.06B of ZNGA's revenue. This revenue is NET of the fees ZNGA pays through the Facebook Credits program. As ZNGA explains (emphasis mine):
"In May 2010, we entered into an agreement with Facebook that required us to accept Facebook Credits as the primary in-game payment method for our games played through the Facebook platform. The agreement required us to begin migrating our games to Facebook Credits in our games beginning in July 2010, and by April 2011 this migration was complete. Facebook Credits is Facebook's proprietary virtual currency that Facebook sells for use on the Facebook platform. Under the terms of our agreement, Facebook sets the price our players pay for Facebook Credits and collects the cash from the sale of Facebook Credits. Facebook's current stated face value of a Facebook Credit is $0.10. For each Facebook Credit purchased by our players and redeemed in our games, Facebook remits to us $0.07, which is the net amount we recognize as revenue. We recognize revenue net of the amounts retained by Facebook because we do not set the pricing of Facebook Credits to the players of our games. Prior to the implementation of Facebook Credits in our games, players could purchase our virtual goods through various widely accepted payment methods offered in the games and we recognized revenue based on the transaction price paid by the player." (ZNGA-p68)
Since ZNGA is collecting 70% of the total amount Facebook collects, this means that in 2011, Facebook earned approximately $454M in revenue from ZNGA's participation in the Facebook Credits program (=$1.06B*[30/70]).
Facebook disclosed that it earned $3.711B in revenue in 2011; $3.154B of that came from advertising and $557M of that came from payments and other fees revenue (FB-p59). This means ZNGA accounted for 82% of Facebook's payments and 12% of total revenue. This is money ZNGA earns directly for Facebook through Facebook Credits. However, Facebook also notes that ZNGA purchases ads as well as generates pages on which Facebook displays revenue-generating ads from other advertisers:
"…Zynga's apps generate pages on which we display ads from other advertisers; for 2011 and the first quarter of 2012, we estimate that an additional approximately 7% and 4%, respectively, of our revenue was generated from the display of these ads." (FB-p19)
So, for 2011, ZNGA directly earned another $260M for Facebook through display advertising beyond what it paid to Facebook for such ads (=$3711B*0.07). In total, ZNGA delivered to Facebook $714M in revenue or 19% of its total revenue in 2011. All these calculations confirms Facebook's own summary (FB-p19). ZNGA's share dropped in the first quarter of 2012 likely because of FB's rapid growth in non-ZNGA advertising revenue. For example, for 2011, Facebook reported:
"…Revenue in 2011 increased $1,737 million, or 88% compared to 2010. The increase was due primarily to a 69% increase in advertising revenue to $3,154 million. Advertising revenue grew due to a 42% increase in the number of ads delivered and an 18% increase in the average price per ad delivered."
Regardless, Facebook and ZNGA are strong co-dependents with mutual interests in the viability of each the integrated business models. I daresay that one day Facebook may decide to acquire ZNGA because of its dependence on the success of the company's games even as it seeks to diversify its revenue base. I will save such speculation for a later day after we see what Facebook does with its IPO riches.
These numbers mean that I will stick by the well-publicized 12% Facebook-from-Zynga revenue share number as a starting point to calculate a relative valuation for ZNGA, but I also recognize that I could justify using a higher number based on the linkage with display advertising. Assuming Facebook gets a $90B valuation (10% lower than the $100B still bandied about), ZNGA should get at least a $10.8B valuation. Given ZNGA's current $6.49B valuation and $9 stock price, I get a rough upside target of $15. Using the 19% Facebook-from-Zynga revenue share, I get a rough upside target as much as $24. Again, a more conservative approach makes sense based on Facebook's potential to diversify its revenue away from ZNGA.
The main point here is that if you are interested in buying into the Facebook IPO, Zynga is currently a much cheaper way to buy into the hype. The fickle market has taken Zynga down with the more questionable recent internet IPOs like Yelp.com (NYSE:YELP) and Groupon (NASDAQ:GRPN). See my earlier post for a more detailed list of risk factors likely weighing Zynga down.
The latest "bad" news is that Facebook also disclosed slower revenue growth in the first quarter of 2012. This revelation is quite reminiscent of Google's (NASDAQ:GOOG) IPO when the company disclosed expectations for slower growth just because of the law of large numbers. I think Facebook is in a similar position. The current report of slower growth should come as no surprise when Facebook already described slower growth from 2009 to 2010 to 2011. Revenue over these years grew from $777M to $1,974M to $3,711M; 154% growth from 2009 to 2010 and 88% for 2010 to 2011.
ZNGA's stock apparently reacted a bit to Facebook's disclosures. Selling volume surged again on Monday to one of its highest levels of the year before the stock staged a recovery into the close. While ZNGA still ended the day with a small loss, this recovery is the first real buying interest the stock has since April 12th. The chart below includes the notes I provided in the last post to describe ZNGA's turbulent first five months as a public company.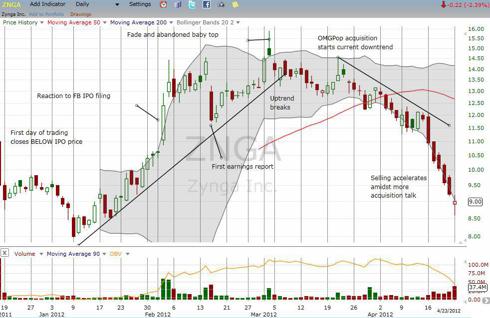 Click to enlargeZNGA's turbulent 5-month journey
Source: FreeStockCharts.com
With ZNGA reporting earnings on Thursday, the stock options carry a significant risk premium. Instead of buying shares, traders might consider selling puts as a way to lower the cost of entry into the stock. This method will of course cap gains and may result in missed opportunity if ZNGA manages to surge higher post-earnings.
Be careful out there!
Disclosure: I am long ZNGA.