In Q1 FY12 (December quarter), Apple (NASDAQ:AAPL) beat their own revenue guidance by a record 25.2%. Over the last 10 quarters, Apple has exceeded their own revenue guidance with a range of 12.1% to 25.2%, and, over the last 5 quarters, has averaged 18.2%. After reviewing Apple earnings estimates posted here by Philip Elmer-Dewitt I noted that 18 of the 22 independent analysts are predicting Apple's Q2 FY12 revenues in excess of $41B. This is significant because Apple provided revenue guidance of $32.5B and a record tying 25.2% revenue beat equates to $40.7B.
All but 4 of 22 independent analysts are predicting a record-breaking revenue blow-out. This smells a little bit like the Q4 2011 earnings call where Apple came in significantly below the independents (including myself) and even below the Street consensus. I am not predicting a repeat of Q4 FY11 (the circumstances are different), and I am sure Apple will beat the Street. I'm not so sure they will perform to the independent analysts' expectations.
The below table shows Apple's guidance for Q2 FY12 with scenarios for low, average and high revenue beats that are in line with recent history. I added 3.2% to the GM guidance, which is the 5-year average guidance beat and it also accounts for a larger mix of iPhone sales relative to other products. Tax rate was lowered by 0.5%, also in line with the 5-year deviation from guidance, which also accounts for a larger portion of iPhone sales outside the US as overseas iPhone launches accelerated during Q2.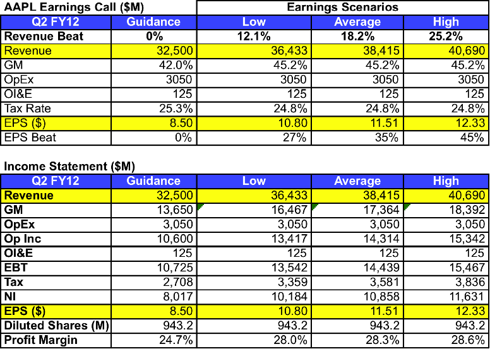 Click to enlarge
Apple's guidance should not be ignored. Who is in a better position to predict their revenue and earnings? This is not to say that historical guidance patterns will always be followed. As I stated above, Q1 FY12 was a record setting revenue beat.
Of the independents polled by Dewitt, the average of the top 6 performers predicts revenue of $41.47B and EPS of $12.49 which is a revenue beat of 29.6% over Apple's guidance, another record. I'm not saying the smartest independents are wrong. I follow and respect their work and they put a lot of thought into their estimates. So, either they are a bit too optimistic, or Apple has added a few more sandbags to their earnings guidance policy. As an Apple investor, I hope the independents are right.
Although I hate point estimates, I think Apple will come in around $39B for revenue and $11.65 for EPS on 33M iPhones, 12M iPads and 4.5M Macs.
A detailed analysis of how Apple's earnings guidance compares to actual results can be found here.
Disclosure: I am long AAPL.