In late March, we took a long, hard look at Apple (AAPL) and determined that it is unattractive ahead of earnings on April 24. We detail our viewpoint in the article Is Apple A Short-Term Sell Ahead of Earnings?
We won't rehash our reasoning, except to mention that our negative call was and still is a reaction to what we saw as a fundamental shift in the risk-reward profile of Apple stock after a surge of analysts in March boosted earnings estimates for the first quarter of 2012, which (when we wrote our first article) had increased EPS estimates by nearly $2, or 24%, to $9.75. Since that time, the upward revisions have continued, and Apple's 1Q2012 earnings estimate now stands at $10.02, according to TheStreet.com. Meanwhile, as illustrated below, Apple has shed -6.75% since March 27.
(click to enlarge)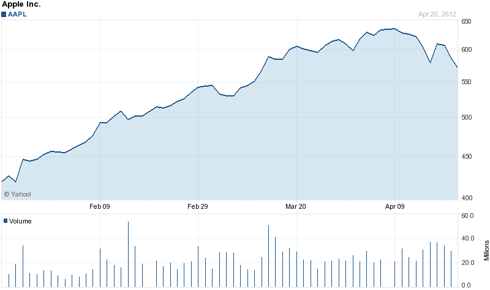 Chart from Yahoo Finance
It seems unusual to experience a declining share price in concert with rising EPS estimates. Upward revisions should translate into more attractive valuations - and Apple's share price, by our judgment at least, is not expensive at current levels. The stock as it stands, trading at 16 times current earnings and 11 times 2013 earnings, and given Apple's extraordinary growth and cash position, is priced quite reasonably.
But the recent sell-off tells us that investors are skittish nonetheless. The expectation of higher earnings may be acting against the stock in the short-term as investors bail ahead of earnings with the expectation of accumulating in the aftermath of a sell-off.
Potential Headwinds
Notable headwinds to fear in Apple's earnings report include whether iPad margins have narrowed with its newest iteration and whether competition with, among others, Google's (GOOG) Android, Microsoft's (MSFT) Nokia (NOK) phones, and Samsung's (SSNLF.PK) phones, is affecting Apple sales in any capacity internationally.
Perhaps, too, one might watch for hints of the sorts of competitive pressures predicted by "The Loneliest Analyst" - the only analyst to rate Apple a "sell."
Bottom Line
Even in the event of a solid headline EPS number for Apple, we feel the potential exists for a slight negative trend or minor shortcoming to disproportionately drive down share price. Apple has been a consistent earnings performer (save for 3Q2011), but this time around the earnings play upside seems limited.
We recommend against the popular strategy of buying Apple ahead of earnings. Rather, we recommend a strategy of hedging the Street's lofty expectations by waiting on the sidelines now and accumulating in the aftermath of earnings.
Disclosure: I am long MSFT.