"Combine the extremes, and you will have the true center." - Karl Wilhelm Friedrich Schlegel
On January 19th here on SeekingAlpha, I put out an article titled "Natural Gas - Has the Extreme Happened." In it, I stated at the time in the midst of the run higher in risk assets that "this is the precise kind of environment where a snap-back and mean reversion trade becomes a high probability scenario. The ratio at 0.134 right now may be nearing its 3-year low and could be at a relative support level now. With Oil prices remaining high and a possible embargo of Iran to come, perhaps natural gas could surprise investors positively."
It appears that my analysis was too early in stating that natural gas stocks could sustainably outperform, as Natural Gas (UNG) itself continued to plummet and as broader Oil (XLE) and coal (KOL) weakened. Take a look below at the price ratio of the First Trust ISE Revere Natural Gas ETF (FCG) relative to the S&P 500 (IVV). As a reminder, a rising price ratio means the numerator/FCG is outperforming (up more/down less) the denominator/IVV.
(click to enlarge)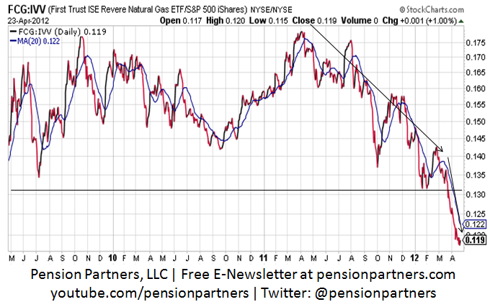 When I wrote the article, the ratio was around the support line I annotated in the chart. A mini-period of strength followed (I believe coinciding with the State of the Union in which natural gas was played up). However, since late-February the ratio has utterly collapsed, breaking support in a meaningful way. Natural gas and energy more generally has not been the place to be this year relative to other areas of the stock market.
Where it bottoms now is anyone's guess, but I do think there likely will be a big opportunity once the ratio turns around given the severity of underperformance and the idea that the cure to low prices for commodities is low prices, as gas prices become cheaper and used more by utilities in electricity generation.
Additional disclosure: Pension Partners, LLC, and/or its clients may hold positions in securities mentioned in this article at time of writing.