Introduction
Since I last wrote about the case for investing in the graphite market, there have been noteworthy developments I've learned that make me increasingly bullish on the market's prospects in the coming years.
Last week, Industrial Minerals, the leading source for information on the graphite market, posted a report about the increasingly tight conditions in the Chinese amorphous graphite industry that is set to impact the global supply demand balance for 2012 and beyond. The article reported that the Chinese government is continuing to consolidate and reduce the number of its graphite mines in Hunan province from 230 to 20 mines.
The majority are small to medium size mines that have been active for decades, but questions over their safety and environmental impact has forced the government to close, merge and exert tighter control over production. Industrial Minerals estimates this will result in a loss of approximately 100,000 tons per annum (tpa), or 10% of annual global graphite supply.
Given the current tightness in the market, this supply shortage will not be easily replaced in the short to medium term until new supply comes into the market. There may also be a substitution effect whereby consumers must purchase higher value flake graphite to replace the lower value amorphous graphite.
It's easy to see why graphite prices have risen significantly in the past few years. However, the fundamentals are still in place for prices to increase further with the compounded impact of shrinking supplies and rising demand.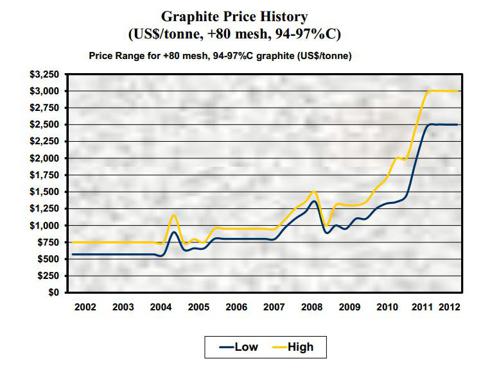 In the table below, I've listed the historical and projected supply and demand scenario for the next few years. I've modeled the loss of 100,000 tpa production from China, and added the incremental production associated with the nearest term producers. I've assumed base case demand growth of only 5% in the next few years, which I believe is conservative and does not account for much larger demand drivers such as battery applications or graphene.
In Brazil, Magnesita (OTCPK:MFRSY) announced a greenfield graphite mine project in Q3'11 in Almenara, Minas Gerais State, under which the company owns mineral rights where the graphite deposits will be started for the first phase of the project. Since this is a greenfield project, the process to obtain the environmental license is more complex and time consuming requiring environmental impact assessment to be conducted across all four seasons of the year. Largely dependent on environmental permitting process, the company expects to begin graphite production at the beginning of 2014.
The company estimates it can produce 40,000 tpa, however Magnesita uses graphite as a raw material for its own refractory business, so the actual amount export for world demand will be substantially less. I've assumed 10,000 tpa or 25% will be available for the world market, which still might be an overly optimistic figure. What's interesting is that analysts have put a value on this project of $1.1 billion according to a Reuters report and suggests that even the Chinese are interested in participating in this venture.
This further supports the case that the Chinese are structurally short graphite. Overall, I do not believe Brazil will be a major driver for expanding graphite supplies significantly in the near term to affect the trend of rising prices.
In Canada, I've listed the incremental production capacity for Northern Graphite (OTCQX:NGPHF), Ontario Graphite (private) and Focus Metals (OTCQX:FCSMF), each of which should contribute approximately 20,000 tpa. Lastly, I've also included Flinders Resources (FLNXF.PK), which is advancing a project in Sweden to re-start a past producing mine.
Overall, I believe my analysis indicates the graphite market may be in a sharp supply deficit in the next few years. Prices have to rise significantly further to adjust for this imbalance.
M&A Is Heating Up
There are virtually no pure play graphite producers in the world, however, there is but one company to look at for a view into the market. Graphit Kropfmuehl (GKR) AG is a German-based company that specializes in the mining, processing, and refining of graphite and production of silicon metal. The company recently reported record earnings with EBITDA tripling. This confirms my assertion that it's a great time to be in the graphite business. The company stated the following:
In the graphite segment, we will continue to benefit from the constantly increasing worldwide demand for specialist graphite. We will specifically aim our production capacities at modern applications in order to offer competitive products in growing sales markets...Growing demand from battery applications, which includes the electro-mobility field, is only likely to deliver substantial additional revenue and earnings in the medium term.
Given this bullish view from the company that substantial revenues growth lies ahead in the medium term, it's not surprising that an offer to purchase the 11.8% minority public float for Graphit was made by its majority shareholder, AMG, in late February at a 32% premium of 31.75 euros per share.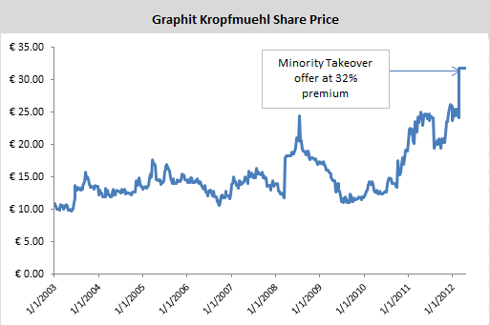 Race Toward Financing for the Canadian Juniors
Financing remains a key hurdle for de-risking any mining project. Northern Graphite continues to be my preferred public company for getting exposure to the nascent graphite boom, particularly because it is on the cusp of evaluating financing alternatives. Last week, Northern Graphite announced it has retained GMP Securities as its exclusive financial advisor to evaluate alternatives for their Bissett Creek project. I believe this signals that the company is rapidly progressing on its graphite project, and is well ahead of all of its publicly traded peers.
The company anticipates its Bankable Feasibility Study will be completed in a few more weeks, which will be an additional near-term catalyst. In the meantime, new metallurgical test results have confirmed that Bissett Creek's asset contains large flake, high purity and recovery graphite throughout the entire resource. This is very important because consistent graphite grades will be a critical feature that customers and off-take partners will assess before entering into a strategic partnership.
Furthermore, the company was the first - and only - graphite company to be selected by S&P for inclusion into the TSX Venture Select Index. Index inclusion will attract incremental buyers of the stock from funds looking to track the index, and ETFs such as the Global X Venture Fund and the iShares Venture ETF.
Conclusion
I continue to believe that the graphite market is still in an early stage of adjusting to a new price equilibrium that can push prices much higher in 2012. Further evidence is mounting that China is taking decisive measures to reduce their output of graphite this year. The impact on world markets is material, and is set to reduce output by up to 10%. Assuming announced time lines for new mine production are achieved, it will take at least 2 years for new supplies to fill a portion of the deficit gap.
With the recent acquisition of European producer Graphit Kropfmuehl, there are already signs that strategic acquirers are moving to exert greater control over these scarce resources. Canadian producers are expected to play a leading role in driving incremental supply in the next few years. The companies that will benefit the most are the ones with the best source of large flake, high purity graphite that can advance their projects in the quickest fashion.
All indications continue to point to Northern Graphite being the best positioned given its advanced time table and high quality graphite.
Disclosure: I am long OTCQX:NGPHF.