My portfolio has been underweight financials since the big run up early in the year as I thought the sector had got ahead of itself, concerns about European debt fallout, and increasing regulation made it a difficult area to invest in with confidence. My only major holding in this sector is JP Morgan (NYSE:JPM), which I consider the best run bank in the country and have held since it was in the twenties. I also have several smaller positions in the sector. One smaller financial institution has recently come onto my radar though.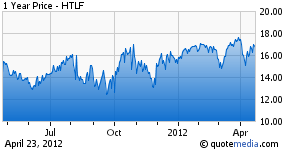 Heartland Financial (NASDAQ:HTLF)
7 reasons Heartland should rise from just over $16 a share:
The company just reported earnings that beat estimates and the company's CEO called Heartland's best quarter ever.
Several insiders have picked up new shares since March.
Earnings are showing good growth. The company made $1.23 in FY2011. Analysts have it earning $1.43 in FY2012 and $1.65 in FY2013.
Estimates for FY2012 and FY2013 have risen in last two months. Based on latest earnings report, I would look for these estimates to increase further.
The stock yields 2.4% and did not have to cut its dividend during the financial crisis. Given Heartland's low payout ratio and growing earnings, I would look for the company to increase dividends again in the near future.
The stock has a forward PE of just over 10, which is an over 40% discount to its historical average.
Return on Assets, Net Interest Margin and deposit growth are all moving in the right direction. This was showcased in the first quarter earnings report where company reported record net income.
Disclosure: I have no positions in any stocks mentioned, but may initiate a long position in HTLF over the next 72 hours.
Additional disclosure: I am also long JPM.