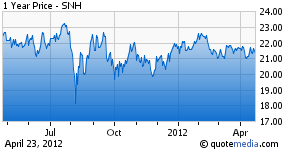 Senior Housing Properties Trust (NYSE:SNH) is a healthcare REIT focused on private pay senior living facilities. The company pays a hefty dividend of $1.52 per share representing a 6.9% yield, albeit with a forward payout ratio in the neighborhood of 150%. By comparison the largest healthcare REIT, HCP (NYSE:HCP), yields 5.1% with a forward payout ratio of about 110%. If we normalize payout ratios at HCP's level, SNH would yield about 5.1%, or the same as HCP. Without digging into valuation any deeper, this alone suggests that despite a higher yield, SNH is not necessarily undervalued in relation to HCP.
There are a few facts about SNH which make it an inferior investment to HCP, in my view. The first has to do with the nature of the company's related party transactions. SNH is a holding company for real estate only (it has no employees) with the management of the properties handled by a related party named RMR.
SNH has two agreements with RMR, a property management agreement and a business management agreement. Under the former, RMR is entitled to 3% of gross rents on certain property types and a construction supervision fee of 5% of construction costs. Under the latter, RMR is entitled to 0.5% of the average historical book value of owned assets (and in certain cases a higher amount of 0.7%), plus an incentive fee based on growing funds from operations (FFO).
The main issue with this fee arrangement is that it is essentially a fixed cost which does not change much in relationship to profitability. The incentive fee in practice is a very small amount, about 2% of the total fees paid to RMR. That fee itself can even be paid when net income is flat or down because it is based on FFO which includes depreciation. All the remaining fees are basically invariable, the most important of which in dollar terms is the asset based fee that would not change at all, even if revenue or profit when down considerably. It is also a major incentive to management to merely add assets to the company without respect to whether the investment is positive for shareholders.
To this last point, it is worth noting that EPS at SNH has not grown over the past six years. In 2006, EPS was $0.91 cents and in 2011 it was $0.88 after removing a $0.13 gain on sale of asset. Meanwhile revenue has increased from $178 million to $450 million over the same period. This shows that shareholders have received little value from the company's growth which may in part be due to skewed management incentives. In fairness, property investing is a low return on capital business and not much value should accrue from growth, a pattern which HCP itself has demonstrated as well.
Another issue with SNH is that its largest tenant, Five Star Quality Care ((NYSE:FVE)) which happens to be managed by RMR as well, represents about 45% of rents and is only marginally profitable after removing a one-time tax item in 2011. FVE's stock price is down considerably over the past several years as well. While SNH may be safe in its real estate position, it does not bode well for rent growth when your largest tenant is experiencing difficult business conditions. It should be noted that HCP has its own customer concentration issues as well, in the form of HCR Manor Care, although credit metrics for that tenant are superior to those of FVE, based on fixed charge coverage ratios.
From a narrow valuation perspective, SNH may appear somewhat attractive, but after considering these facts, investors would be better served owning HCP or even one of the other healthcare REIT names. Having owned HCP in the past, my view is that it is modestly very overvalued at current levels, but it still represents a better investment despite a lower yield than SNH.
Disclosure: I have no positions in any stocks mentioned, and no plans to initiate any positions within the next 72 hours.