Natural Gas prices have fallen to historic lows. New methods of extraction have led to large increases in supply, coupled with an unusually warm winter through much of North America which diminished demand. However, there is little reason to believe that prices will remain this low. The abnormally steep futures curve for Henry Hub Natural Gas futures contracts indicates the market is anticipating a rise in price and the level of natural gas being stored is significantly higher than it should be at this point in the seasonal cycle.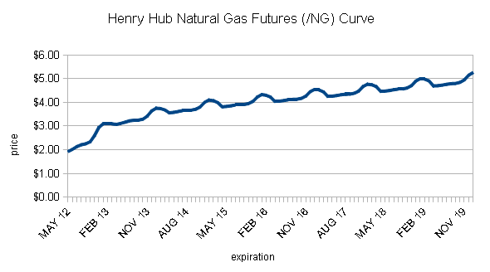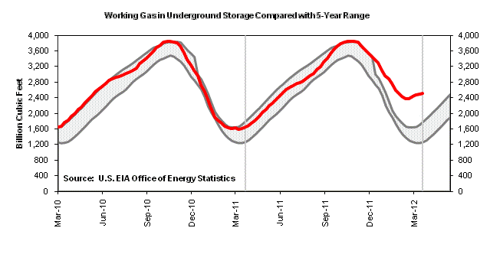 Whether this is simply gas that was never used because of the warm winter or arbitrageurs seeing an opportunity to take advantage of the steep futures curve is irrelevant because both instances point towards prices being temporarily depressed and indicate a rebound as the market clears. High storage and low prices are a condition that will cause producers to shut off production that is not profitable at current prices and sell previous production that is being stored. This decrease in production will eventually lead to an increase in price.
Meanwhile, foreign demand for natural gas has been increasing. Emerging economies continue to grow and developed markets are shutting down nuclear reactors as they second guess the safety of nuclear power after the events at Fukushima.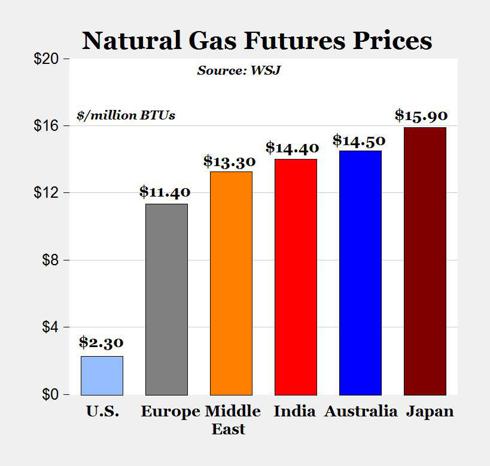 Domestic and foreign prices should converge until they are separated only by the cost of exporting natural gas as the market clears this arbitrage opportunity. Cheniere (NYSEMKT:LNG) seems to have secured first mover advantage in the export market and plans to begin operations at their recently approved facility in 2015.
While there is evidence that the price of natural gas will have to rise in the future, it remains frustratingly difficult to obtain long term exposure to natural gas prices with out paying premiums that can cripple returns. The futures curve is so steeply in contango that the break even for a futures contract that doesn't expire until Cheniere's export facility becomes operational would require spot prices to roughly double. This problem is compounded when trying to purchase options on long dated futures because of the options time value. These added costs materially impact the chances of positive returns.
There aren't any significant advantages to be gained with exchange traded products, either. The United States Natural Gas Fund (NYSEARCA:UNG) is constructed from natural gas futures. Consequently, when these futures contracts expire, they have to be rolled over and new contracts purchased at a higher price as long as the markets are in contango. The United States 12 Month Natural Gas Fund (NYSEARCA:UNL) is a product structured in a similar manner, but in an attempt to lessen the headwinds caused by contango, it's constructed from longer dated contracts. This fund rolls contracts over a year before they expire because the most rapid decay in a futures contract time premium tends to occur near expiration. While this does mitigate some of the problem, it does not solve it.
Investors may find it beneficial to turn to equities because of the difficulty in obtaining direct exposure to natural gas. The most obvious beneficiaries of a potential rise in natural gas prices will be the producers, the largest of which is Exxon Mobil (NYSE:XOM) according to the EIA. Their size and diversification, however, dilutes their exposure to the North American natural gas market. For a more concentrated exposure, Encana Corp. (NYSE:ECA) or Chesapeake Energy (NYSE:CHK) deserve some attention. A quick glance at their stock charts can confirm their correlation to natural gas prices as they are down significantly. While they both will pay investors to wait, Encana offers the better yield of the two, weighing in at over 4% compared to Chesapeake's 2% yield.
Another method of obtaining equity exposure to natural gas is in the midstream space, specifically, Master Limited Partnerships. These companies provide exposure to energy infrastructure such as pipelines and storage facilities, as well some extraction and refining activities. Enterprise Product Partners (NYSE:EPD), Markwest Energy (NYSE:MWE), and Energy Transfer Equity (NYSE:ETE) are some of the names in this space that focus on natural gas. It is important to note that Master Limited Partnerships are publicly traded partnerships and are taxed differently than stocks or ETFs. Further research may be required before purchasing interest in these companies.
Cheniere offers a unique opportunity. They have plans to build an export facility in Louisiana connected to the Henry Hub and have already acquired approval from FERC to export. This company will provide direct exposure to the natural gas export market and international arbitrage opportunities, and Cheniere has already caught the attention of many potential customers.
There are many signs that natural gas prices will have to rise in the future and the use of natural gas will continue to escalate but there is little reason to think they may rise anywhere near their previous peak. If you purchase equities to gain exposure to this trend, it is important to remember the words of Benjamin Graham, "Obvious prospects for physical growth in a business do not translate into obvious profits for investors." Keep in mind that you are buying part ownership in a business, and you must understand the underlying fundamentals of how that business works. While the business in question may be involved with natural gas, it is never equivalent to direct natural gas exposure or growth in the industry and it may have additional risks.