LinkedIn's (LNKD) lock-up period, which prevents insiders from selling their shares, expired in late February. Since the expiration of the ban, 49 Form 4s have been filed and every single one of them was a sale (i.e. not a single insider has purchased shares).
I've put together an analysis that shows ownership levels across key shareholders pre-IPO and then my estimate of the percentage that's been sold either during the IPO, the firm's secondary, or post-lock-up expiration. The full table is shown below, but my key takeaways are:
Management Has Sold More Than 20% Of Their Pre-IPO Ownership - In total, I estimate that management has sold over 1.6mm shares for over $120mm in proceeds. With half of those sales on a dollar-basis coming in the last two months. The largest seller is the CEO, Jeff Weiner, who I estimate has sold roughly $50mm worth of stock in less than 1 year. His most recent sale was April 2nd.
Management Sales Totaling Over $60mm From The IPO And Secondary Should Have Provided Sufficient Spending Money - By my calculations, on average senior management should have taken home in excess of $8mm a piece from their IPO & secondary sales. While obviously everyone's financial needs differ, $8mm would appear to be reasonable downside protection in the event LinkedIn's business was less successful than expected. However, management has continued to sell reasonably large chunks of their ownership to the public market.
Management Has Sold Nearly 5x The Amount Of Shares In the Open Market And During the Secondary Than It Sold During the IPO - Most investors look closely at IPOs to determine if insiders are selling their shares, which some investors take as a sign that the valuation is rich. However, less scrutiny tends to be paid to secondary offerings and even less so to open market sales. During LinkedIn's IPO management only sold 272k shares representing just over 3% of their total ownership stake. However, they've sold close to 18% of their ownership stake since the IPO.
Venture Capital Firms Have Exited Half Their Position - Venture capital firms were the primary sellers in the secondary offering in November, selling over 15% of their stake and with Bain exiting their stake entirely. Additionally, since the lock-up has expired the VC firms have taken the opportunity to redistribute their shares to LPs, returning 33% of their stake since February by my calculation.
(click to enlarge)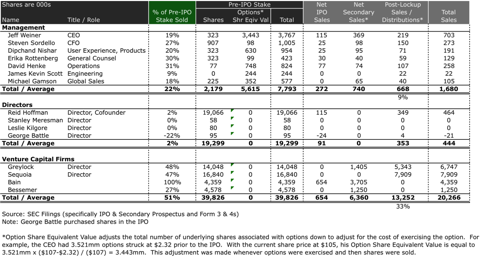 To be fair, I believe most of management's sales post lock-up expiration were part of 10b5-1 plans, which are essentially automatic sales program.
Management teams often use these plans as part of an overall wealth diversification strategy to lower their exposure to their employer's stock (a reasonable thing to do). However, despite most of these sales likely being part of 10b5-1 plans, I still think that management's decision to set up these plans in the first place gives us a bit of insight into their view on the stock's valuation. One final note on 10b5-1 plans, these plans tend to be price sensitive, i.e. when the price is high, more shares are sold. Given that management has sold nearly 10% of their original stake in just 2 months, my interpretation is that management believes the current price level is on the high side of fair value.
Bottom line: I think investors would be prudent to watch what management does more than what they say.
A Few Notes On My Methodology
My Share & Option Ownership Levels Won't Tie Exactly With The IPO S-1 Disclosure - The IPO ownership disclosure counted all shares but only options that were exercisable within 60 days. I've counted all shares and all options (even unvested options). This of course makes their initial ownership stake appear bigger than the prospectus and correspondingly the percentage of shares sold smaller. This makes my percentage ownership estimate more conservative as they've sold a much larger percentage of the total shares eligible for sale (i.e. vested shares & options).
Options Levels Have Been Adjusted To Represent Their Intrinsic Value On A Per Share Basis - Instead of just using the number of shares underlying an option I made an attempt to adjust the options for the strike price. Just by way of example, a LNKD option with a $2 strike is certainly worth more than an option with a $20 strike. It'll be easiest to show my calculation with an example: Jeff Weiner had 3.521mm shares underlying his options all struck at $2.32. The current price for LNKD is $105, so I readjusted the option share equivalent value as follows: 3.521mm x ($105 - $2.32) / $105. This took the number of shares down slightly to 3.443mm (~2% adjustment), which is what I've represented in my table. I've made a similar adjustment to sales anytime options were exercised to initiate a sale. The cumulative effect of this change was reasonably small because most of management's options were struck at very low prices.
Also in the interest of full disclosure, I am currently short LinkedIn primarily driven by my view that the valuation is excessive even under very bullish assumptions. I've done a very detailed write-up on LinkedIn that can be viewed as a PDF here. Furthermore, I believe that DCF calculation errors by analysts tend to overstate LNKD's valuation by over 30%. I've written about these errors previously in another Seeking Alpha post that can be viewed here.
One question I have for the Seeking Alpha community, given the volume of sales by insiders over the last two months, who do you think is on the other end of the trade that's been driving the stock up? I don't have a good answer for this question, but do want to know.
Please leave your comments and questions below.
Disclosure: I am short LNKD.