On 10/10/2007 CrossProfit published an article explaining that not all real estate REITs would or should under-perform. In fact, I was bullish on ProLogis (NYSE:PLD) as explained in the article.
On 10/25/2007 PLD reported Q3 results, beating consensus estimates. I was not surprised as depicted in the forward looking evaluation line. PLD has already climbed from $66.35 to $70.82 and has more to go. I anticipate several jittery weeks in 2008 as real estate continues to get clobbered and investors lump all real estate REITs together. As the dust settles, investors should realize that not all REITs are equal. Should this materialize, traders will have a heyday with this stock.
Net income came in at $1.12 vs. $0.65 a year ago. As a REIT, FFO (funds from operations) came in at $1.41 vs. $0.79, well ahead of the $1.20 consensus. What really jives well with the previous article is that the company upped both the 2007 forecast from FFO $4.25/$4.40 to FFO $4.40/$4.50 and the 2008 forecast now stands at FFO $4.65/$4.85 [+ $0.20]. This will probably get lifted again in mid 2008.
Chief Executive Jeffrey Schwartz said:
As a result of continued strong market fundamentals and customer demand driven by growth in global trade, we anticipate another year of solid growth in FFO per share"
Schwartz must have read the previous article!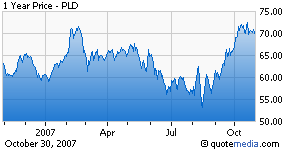 Disclosure: No holdings by analyst, associates are long.