It's a digital advertising world, and DG FastChannel, Inc. (Nasdaq: DGIT), which dubs and transmits spot ads to TV and radio stations, is going digital along with it.
It wasn't always that way for the Irving, Texas-based company. Five years ago, when it was called Digital Generation Systems, just about the only thing digital about the company was a stock price dipping deep into single digits. Its ad delivery business consisted almost entirely of shipping tapes to radio stations, and competition was brutal. Moreover, since the dot-com crash, the offline ad business has been almost as moribund as talking sock puppets on TV (remember Pets.com?).
From an all-time high of about $13 in mid-1996, a few months after going public, its stock had dropped to around $0.50 by the end of 2005, with a few surges in between.
But the company had also started its comeback strategy by then. Through a combination of internal development and acquisition, it had moved into the delivery of broadcast television spots, eliminating competition and increasing prices. It has also been increasingly beaming digital ads to stations through satellite.
The big change came in 2006. It announced a merger with FastChannel Network, which was delivering advertising through the internet. It gained some Street cred back on May 26, 2006, when it did a reverse-split of 1:10, turning a $0.55 stock into a $5.50 stock and consummated its merger five days later. The newly named DG FastChannel was truly a digital company and was taking a leadership position.
Within the last year, DG FastChannel has also bought up competitors GTN, Point.360 (which brought in a large number of clients in Hollywood) and Pathfire (which increased its ability to deliver ads through the Internet as well as increasing its business with clients such as Warner Bros, Sony Corp. (NYSE: SNE) and Paramount). Finally, it reached a partnership with Viewpoint Corp. (Nasdaq: VWPT) and bought 13% of the company, giving it a presence in delivering ads to Internet sites. That's turning it into a large, diversified monopoly—it now counts over 5,000 advertising clients, including 75 of the 100 largest advertisers.
Roth Capital Partners, which had suspended coverage of the stock in 2005, resumed its coverage in June 2007, when the stock passed $21. It's now trading between $24 and $25, with a market cap of $440 million. Roth analyst Richard Ingrassia noted in a report that "declining customer concentration is an important development in the DG FastChannel story since we last covered the stock in 2003-2005." He has set a target price of $32. Its 52-week low is $9.60 and its 52-week high is $25.50.
The price is still well below its all-time high of $130 (adjusted for its reverse split) in 1996 and only three analysts are currently covering the stock. Investors are still not quite sure what to make of the stock. In the last 10 days, it has bounced back and forth with closing prices between $22.50 and $25, with shifts of over 10% in a single day. The stock closed at $24.70 on Monday.
Acquisitions accounted for most of its 33% revenue growth in 2006, but are now beginning to pay off with organic growth this year, the first since 2001. In the second quarter, net income from continuing operations tripled, to $3.3 million from $1.1 million in 2006. Revenues in the quarter were $21.7 million, up from $15.1 million last year.
And the buying will continue. On Oct. 15 the company filed a shelf registration for 3.5 million common shares, which should bring in as much as $83 million, and registered $25 million in preferred shares. That followed a new $85 million line of credit from a bank syndicate, replacing a prior $35 million line.
Having established a near-monopoly in digital distribution of ads, the company's next big opportunity is high definition television. In mid-September, the company revealed that every 1% of its ad volume that shifts to HD generates an additional $5 million in incremental revenues because of higher prices. Further, gross margins on delivery of HD ads are 75.6%, compared with 59.6% margins on electronically delivered standard definition ads.
ThinkEquity Partners estimates that for the second quarter, HD accounted for about 0.6% of ad deliveries, but that amounted to about 6% of revenues. "The catalyst for growth is the migration to high-def," says ThinkEquity analyst Darren Aftahi.
Because of this, ThinkEquity Partners also recently increased its target price to $32 from $23.70, reflecting a 13 times multiple on expected 2008 EBITDA. The company has no public peers for comparison, but Aftahi believes that multiple is reasonable based on his projections of 27% EBITDA growth in 2008 and 13% in 2009.
With the federal government mandating a shift to HDTV and the 2008 elections poised to pump in some heavy ad spending, DGIT is in a good position to benefit from an increasingly digital world.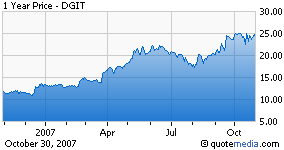 Disclosure: none