DSW (NYSE:DSW) primarily operates 230 retail footwear stores throughout the U.S. The company offers a wide selection of brand name and designer dress, casual, and athletic footwear for women and men in a self-service environment. In the interest of background, DSW shares are down over 40% in 2007, due to slowing same-store sales ('SSS') and lower margins on more clearance merchandise. On Friday October 26th, DSW shares declined nearly 10% on lowered earnings guidance for 3Q07 and FY07 (annual EPS guidance was lowered to at least 10% below 2006 levels, implying earnings of no more than $1.33 per share in 2007). Analysts were expecting a reduction in guidance but the magnitude was surprising.
Given the correction, MADreturns™ believes the current price for DSW shares offers a good entry point for longer-term value investors and sees upside assuming strong new unit growth and a rebound in SSS in 2008.
Attractive Growth Story

We expect DSW to accelerate its new store openings in 2008 and beyond given its strong financial profile with no debt and around $4 per share in cash. Management sees a potential for 400 stores versus 230 currently, which implies growth of 15% to 20% in the next two years (assuming 30 to 40 stores per year) before trending down due to a larger existing base. We view the company's expansions plans favorably especially considering the new store prototype, which is smaller (approximately 17,000 square feet versus 24,000 currently) and more efficient (trending at $230 annual sales per square foot versus $217 at the older, existing stores – anecdotally, management's goal is $300).
SSS are expected to be flat to down 3% in 2007. We attribute the poor performance in 2007 principally to bad weather (i.e., snow in the spring hurt sandal sales while warm weather in September and October hampered boot sales) and to a lesser extent consumer spending concerns. We expect DSW's SSS to improve in 2008 given the easy comparisons and hopefully a return to more normal weather. You are probably telling yourself this is a terrible play given the economic and consumer spending concerns. Well, MADreturns has somewhat of a contrarian view. We believe consumers will continue to delay big ticket purchases on homes, autos, motorcycles, large home remodels, and mid-level items like sets of golf clubs, large furniture sets, etc., leaving more money to spend on smaller ticket items such as footwear in 2008. Moreover, we expect DSW SSS to benefit from the company's improved merchandising and new rewards program. DSW is focused on keeping inventories lean and fresh with stronger performing categories. Aggressive inventory management should also help reduce the number of inventory clearance sales that weigh on margins. The rewards program should also help drive SSS. The program, which changed in September 2006, offers loyal customers more frequent coupons at a lower spending limit. Importantly, loyal customers generate around 60% of DSW's sales.
We are also excited about the company's e-commerce launch, which is expected some time in 2008, as only multi-channel retailers will thrive in the future retail landscape. Finally, there's a chance DSW remodels stores in 2008, which should boost sales per square foot at older, existing stores.
Upside
DSW has traded at an average forward 12 months earnings multiple of 24x since going public in 2005. Footwear retailers generally trade in the 10x to 24x forward earnings range, depending on growth prospects. High-growth specialty retailers trade around 20-25x forward earnings, while slower growth peers trade around 13-15x. Assuming earnings growth in the 20% - 25% range and a multiple of 20 -25x forward EPS, DSW stock is arguably worth $32 to $42 (the implied PEG ratio at this level is 1.0).

In summary, we see the potential for accelerating growth in 2008 related to easy SSS comparisons and accelerated expansion plans combined with DSW's new and more productive prototype stores, store remodels, e-commerce launch, improved merchandising, and better rewards program for loyal customers. We believe patient investors with a 12 month investment horizon should be buyers at the current low-$20 level.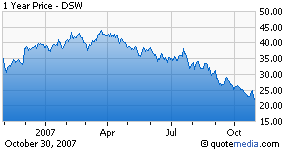 Disclosure: none