Advances in exploration and production are coming fast these days, and industry suppliers that fail to stand equipped and fleet of foot run the risk of not keeping pace. Results from EnergyPoint Research's latest independent customer satisfaction survey indicate that better product availability and delivery is one way suppliers of artificial lift equipment might be able to distinguish themselves going forward.
Quality control, engineering and other factors will certainly continue to matter to customers, but so will actually having the desired equipment at the time it's needed. With over a million oil and gas wells currently producing across the globe, today's customers understandably want to know that, as their demand for services and equipment grows and shifts, suppliers have the resources and willingness to meet their needs.
As a result, flexibility and responsiveness will continue to be of prime importance.
Schlumberger Pumps Along
We believe availability and delivery of capacity and equipment are contributing factors as to why Schlumberger (NYSE:SLB), despite rating only average in other areas, currently leads the pack in terms of total satisfaction among suppliers of artificial lift equipment in our oilfield surveys.
Longtime followers of EnergyPoint's ratings and reports know that Schlumberger's high ratings in the segment run counter to past results that show the industry's more integrated suppliers to be viewed as a bit unwieldy, and sometimes even ineffective, by customers.
Yet when it comes to artificial lift, Schlumberger has clearly caught the attention of survey respondents in a good way, even as competitors' ratings have dropped as of late.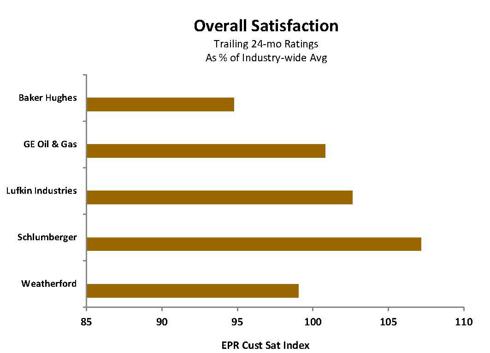 Backlog a Factor
Despite Schlumberger's curve-busting performance, artificial lift suppliers as a whole do not appear to have run the risk of greatly exceeding customers' expectations over the last 24 months. Most incurred at least some supply chain challenges over the period as they and their customers sought production increases, most recently for crude-related applications.
Growth oftentimes leads to backlog, a circumstance that holds contrasting connotations for provider and supplier. Lufkin Industries (NASDAQ:LUFK) , Baker Hughes (NYSE:BHI), GE Oil & Gas (NYSE:GE) (which now owns Wood Group) and Weatherford International (NYSE:WFT) currently enjoy hundreds of millions in future bookings for artificial lift equipment.
The upshot is that customers will endure increased lag times between their orders and deliveries. This may help explain the dip in artificial lift suppliers' ratings overall.
We note that the two suppliers with the lowest ratings for availability and delivery -- Weatherford and Baker Hughes -- also posted low marks in engineering and quality control. This is likely more than coincidence since high levels of backlog can potentially lead suppliers to rush product out the door.
Lufkin is the most focused play in artificial lift, while Weatherford claims hefty market share. Both currently report significant backlogs. However, by outpacing competitors in after-sale support, Lufkin Industries arguably sits in a more enviable position for long-term loyalty.
GE Oil & Gas' ratings also fared well, yet it too appears to have lagged in getting resources to the field.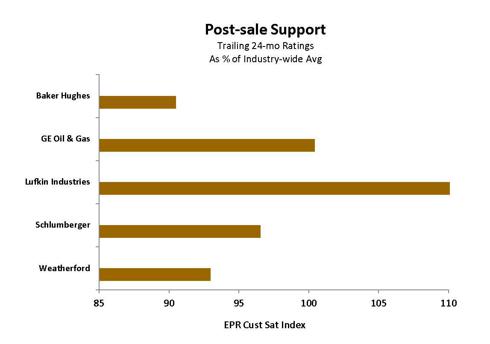 (Click to enlarge)
A Long-Distance Sprint
The outlook for artificial lift tends to follow that of the oil and gas industry at large. So it should be a long and adventurous game. With customer satisfaction a precursor to customer loyalty, currently tepid reviews for the segment suggest some customers might be looking around.
Moreover, the situation appears to have attracted new entrants into the space, as both Cameron (NYSE:CAM) and Halliburton (NYSE:HAL) recently announced acquisitions casting them as emerging competitors. In an increasingly crowded field, this race looks to favor the swift and strong.
Disclosure: I have no positions in any stocks mentioned, and no plans to initiate any positions within the next 72 hours.