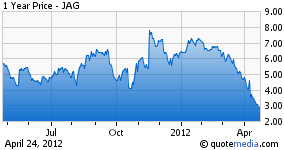 Jaguar Mining (NYSE:JAG) has been taken to the woodshed, no doubt. The stock is trading down from a pre-market high of over $9/share to $2.85 currently. That's a loss of 70% in 5 months.
The reason for this ferocious swing north and then south has been surrounded by a bid from a Chinese company called Shandong Gold Mining. Soon after the shareholders began taking a journey of ups and downs. With it, an emotional and financial beating shareholders don't want to even think about. It has now been 5 months of agony for the shareholders.
But at this level, I find the trade "right." This is what I look for: short term catalysts within a relatively strong secular market. This I what I have done throughout my career of running a hedge fund, trading proprietary and institutional accounts.
The end of this JAG saga is slated for June 30 (the timeline in which management has given this sales process to end). So this trade is only for a few weeks, maybe sooner.
At that time, the company will either take the best and highest bid that comes their way, or go at it alone. Going at it alone would be a worst-case scenario for JAG shareholders.
So like every great trade in life, it comes down to risk/reward and probability.
To sum up Jaguar Mining.; this company is in turmoil. They have three operating mines, all of which have shown escalating operating costs. Though more optimistically, they have recently removed their CEO, and added a highly qualified COO with plans on turning these mines around. I.E. reduce cost, increase oz. gold, etc.
Their three operating mines produced 156,764 oz. of gold, and the adjusted income was .04 per diluted share in 2011. See here for more info on this research.
They also own a permitted deposit in Northern Brazil called Gurupi, which contains over 3M oz. gold. The grades are very good at over 1g/t, many believe there is room to double these reserves as well.
All of their assets are in mining friendly jurisdictions.
The street's target for the stock ranges from $3 to $10.
The original, and probably not very serious offer came from Shandong, and was reported at over $9/share back in November.
Now, if you've been following the Chinese markets and the bids coming out of that nation, then you already know they work in odd ways … what you see is not necessarily what you get. It is very likely this first bid was not "real". It likely had conditions attached that were unlikely to materialize into a $9 closed deal.
However, that offer put them in play, and the combination of market conditions and JAG suffering an untimely operational snafu would be the primary reasons for the cataclysmic free-fall in JAG stock price.
But that's where I smell a trade. With only 9 weeks left until the strategic review process ends, and a stock that has given up 70% of equity. A short-term trade is now upon us.
In the event zero bids materializes, determining the floor of this stock is highly dependent on the price of gold and how fast their new COO turns this ship around, which may very well take a few more quarters. Regardless, I don't think the bottom is far from here. As you look through the analyst's reports, and value the operating mines and Gurupi deposit accordingly; with quite conservative assumptions, the current $400M enterprise value seems justified. In fact, many would argue their Gurupi deposit is worth the entire current enterprise value.
On the upside, one of the interested parties could pay more than the current $2.85/share. How much more? I don't think the reported $9/share price from Shandong is realistic anymore. But, I do think a number somewhere between here and there is a good bet.
Either way, the end is near, and it's only a matter of days, or weeks at most.
So here's the play for me. I will hold this position for few more days/weeks and gradually begin selling if no deal transpires in May/June. If a deal happens sooner, great, it will be a nice hit. If not, hopefully there's time to exit with minimal loss.
Either way, good luck.
Disclosure: I am long RVM.