Recently, Citigroup (NYSE:C) made news as shareholders rejected the proposal to pay its CEO, Vikram Pandit, a higher salary. Now, every investor should realize that despite Citigroup being sued over this compensation issue and making negative headlines again after rejection of its share repurchase by the Federal Reserve, there is nothing inherently wrong with this company that would merit this amount of negative news coverage and skepticism for the company.
A concentration of bad news is being accompanied by the underlying thesis that bank stocks do not make for attractive investments. I could not disagree more. The negative opinion about an investment evolves through time: Usually a company gives legitimate reason to skepticism, such as the credibility of its assets values, reserving policy and leverage/capital ratios. It is at this time that the stock reaches its bottom. After that, accusations and skepticism continue until they cannot discount the progress of the fundamentals anymore. It is at this time that the smart investor should already be invested. Every bank, after a financial bust, must address issues of deleveraging and improving their loan portfolio. Deleveraging usually occurs through changes in the capital structure by increasing equity through the issuance of new shares and reducing debt. Improving loan portfolios is driven through charge-offs, receipt of foreclosure proceeds and loan modifications to reduce net charge-offs and increasing lending standards. In addition, of course, inferior loans may just be paying off. The toughest lending standards are applied in a down market where economic fundamentals are more accurately priced into credit terms. It is at this moment that the credit quality in the portfolio peaks, and, through time, impacts the average loan book quality in a way that provides the bank with comfort to lend (and earn) more. Now, the tightening and easing lending standards are characteristics of any financial cycle and should be watched closely.
Citigroup, in this regard, has made tremendous progress over the last two years. Even though Citigroup has been at the forefront of mortgage-related issues and negative news are overshadowing the value that is inherent in the company. Just last month, Citigroup's proposal of capital management has been rejected by the Federal Reserve:
(Reuters) - Citigroup Inc had sought approval for $8 billion in share repurchases as a part of the capital plan turned down by the Federal Reserve last month, the Wall Street Journal said, citing sources.

In March, the Fed gave glowing marks to most of the large banks, passing 15 out of 19 tested, but the central bank called out a few laggards, including Citigroup, forcing it and others to revise planned share buybacks and dividends.

Citigroup had not asked explicitly for a specific amount. Rather, the $8 billion size was based on a formula in which buybacks were to be made over a two-year period contingent upon the third-largest U.S. bank meeting certain targets, the Journal said, citing people familiar with the matter.
Because of doubts that Citigroup is able to maintain its capital ratios at sufficient levels, the company was being singled out as inappropriately capitalized and not being able to earn a return that fulfills the requirements of the capital market. It is headlines like these, an overly focus on problems rather than opportunities, a disregard and discounting of the enormous fundamental progress this company went through since 2009 and a sentiment-driven attitude toward Citigroup, that excite my interest. The mainstream media's interest is to overemphasize any minor setback as proof of forecasted failure. As the proverb goes: No progress without problems, the intelligent and reflective investor cannot expect news outlets and networks to deliver balanced views. In fact, news is overwhelmingly negatively biased. If this analysis is accompanied by an over use of conjunctive in its reasoning and negative news is accompanied by an irrational sell-off, I am getting interested. In fact, the worse the sell-off the better.
Besides what is being told in the news, the above mentioned top-down approach as to where we are in the cycle and the fundamentals in Citigroup's business are quite encouraging and should be viewed as convincing contradicting evidence to what is usually presented. The soundness of Citigroup's business model and its supporting financials are quite good nonetheless.
Citigroup has a global, functioning franchise with a strong footprint in dominant emerging markets. This positioning will allow Citigroup to capitalize on targeting the emerging market middle class from Asia to Latin America. From a growth perspective, a company headquartered in a more saturated market could not be positioned any better. Once earnings growth normalizes, Citigroup will be viewed in a completely new light especially with its focus on its Global Consumer Banking business. It is in the nature of this business to exhibit its greatest value when we move along the cyclicality curve. I consider it very likely, that once we are in the later stages of an expansion, that Citigroup will be trade again at a significant premium to book value.
Citigroup is able to increase its market share in a variety of businesses, primarily in volatile, but lucrative, investment banking.
Capital ratios are increasing and strengthening its balance sheets. A dismissal of intended share repurchases, besides being shareholder value accretive, is not necessarily a bad sign. The market interprets and overly negatively values the dismissal as indicative of increased vulnerability to financial shocks. Even though this point is noteworthy and deserves attention, the problem also is only temporary and will be fixed in the short term by continued changes to Citigroup's capital structure, i.e. continued increases in its Tier capital ratios.
The main entity, Citicorp, making up about 87% of combined assets exhibits rising revenues (+6%), rising EBT (+12%) and rising net income (+13%). These numbers deserve appreciation. Even more so, when they are viewed in the broader development context.
Financial metrics in International Consumer Banking are encouraging and growing since the beginning of 2010. Accounts, loans, deposits, sales are all upward trending underlining the worldwide acceptance of Citigroup's franchise.
The more volatile Securities and Banking division contributed positively yet less sustainably to Citigroup's profitability with decent performance in investment banking and equities and strong performance in fixed income. Revenue in this division increased 13% from a year ago with almost flat expenditures due to efficiency gains.
Net credit losses are consistently downtrending since Q1, 2010 and represent less than 48% of what was realized two years ago. Loan loss reserves are at $1.2bn down 64% since its local peak of $3.3bn in Q1, 2011. Mortgage delinquencies are still high at around 7%. I assume that it will take another 1.5 years until we will see a more normal delinquency in line with the long-term trend.
Key capital ratios are increasing consistently indicating the Citigroup's ability to mitigate effects of presumed capital inadequacy in the short term.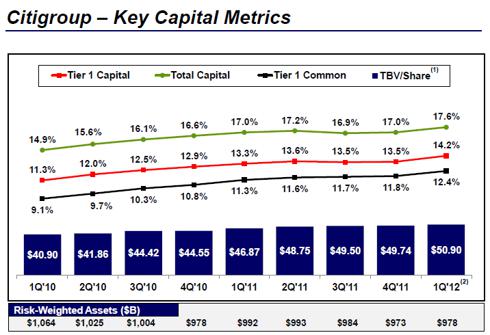 Citi Holdings will continue to reduce risk-weighted assets providing a solution to its legacy issues.
Despite its operating progress, Citigroup is down 25% compared with last year. In comparison, Bank of America (NYSE:BAC) declined 33%, Morgan Stanley (NYSE:MS) 32%, Goldman Sachs (NYSE:GS) 26%, Wells Fargo (NYSE:WFC) 15% and JP Morgan (NYSE:JPM) lost only 4%. Comparatively, Citigroup performed amongst the worst.
Citigroup's valuation is ridiculous and does not reflect, to any degree, a serious valuation of a company that will be crucial to worldwide growth. A company so at the core of the financial system with the kind of access it has to markets and consumers around the world should not be valued at close to liquidation value.
Currently, Citigroup trades at around half book value and based on 2013 EPS estimates on a forward P/E of only 7.2. This is a material discount considering that in the past Citigroup has, at its peak, traded at a 360% premium to book value. The low has been at around 0.2 during the financial crisis. With a current price to book ration of around 0.54, the investor can judge for himself where the valuation stands in comparison to history. In fact, if we only assume that Citigroup will be able to just reach its average price-to-book ratio over the last cycle at 2.4, the share price could reasonably well be in the area of $145 once fundamental economic conditions improve. This is surely based on a historical valuation only. Since history repeats itself, I can see a premium to book value for a strongly positioned and well-capitalized Citigroup under a more normalized environment a few years out.
In my opinion, it is inappropriate to focus on the short-term picture that is still dominated by write-offs, delinquencies and risk-based assets. It is time to appreciate the strength of Citigroup's business model and its implication for its share price. The intelligent investor who has the patience to hold on to this stock, and preferably buy even more when it gets cheaper, will likely do fine over the next cycle that will bring Citigroup's intrinsic value to a more realistic reflection.
Disclosure: I have no positions in any stocks mentioned, and no plans to initiate any positions within the next 72 hours.