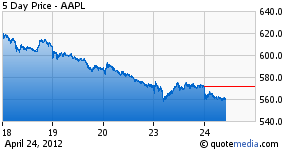 Apple (NASDAQ:AAPL) is expected to report Q2 earnings after the market close on Tuesday, April 24, with a conference call scheduled for 5:00 pm ET.
Guidance
The consensus estimate is $10.06 for EPS and $36.81B for revenue, according to First Call. Apple guidance for Q2 is EPS of about $8.50, on revenue of $32.5B. Whisper numbers are for EPS of $11.57, revenue of $41.87B, and gross margin at 42.1%. Whisper for units sold: iPhones: 31.73M, iPods: 15.77M, iPads: 14.17M, Macs: 5.14M, compared to Q1 reported figures of 37.04M iPhones sold, 15.4M iPods, 15.43M iPads sold, and 5.2M Macs sold. Without leadership from Apple tonight, some feel it is going to be tough for the market to escape its recent funk. Investors will be paying particular attention to iPhone sales, given recent worries of a slowdown. The iPhone accounted for 52.66% of Apple's revenue in its most recent quarter. Concerns about iPhone sales grew last week, when Apple supplier Qualcomm (NASDAQ:QCOM) said it's seeing supply constraints for its 28 nanometer chips during its Q2 earnings call. There are also concerns that telecom giants AT&T (NYSE:T) and Verizon (NYSE:VZ) may cut subsidies for the iPhone, as it's proven to weigh on their margins. This leaves the potential for Apple to sell fewer phones. Verizon said it activated 3.2M iPhones during the last quarter, down from 4.2M the previous quarter. AT&T announced Tuesday that it activated 4.3M iPhones during its Q1, below Wall Street expectations.
Analyst Views
Piper Jaffray's Gene Munster said he believes the fears of a subsidy cut are overblown. Jon Najarian, co-founder of TradeMonster.com thinks that Apple's Q2 focus will be about Mac sales and outlook going forward -- rather than the iPhone 4S and new iPad. There hasn't been a refresh on Mac products in over a year. Mac accounts for roughly 15% of Apple revenues. Najarian wonders not if Apple can top estimates, but "how big the beat will be." With EPS of $9.95 as the base case Najarian "wouldn't be surprised to hear a $10.50 or $11.00 number." Wedbush's quarter preview said that Mac sales could be soft ahead of a refresh. Wedbush estimates Q2 Mac shipments worldwide of 4.3M units, up 14% year-over-year, but down 18% quarter-over-quarter.