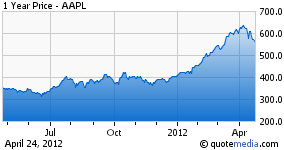 In a previous article, I listed several reasons why Apple (NASDAQ:AAPL) might miss its upcoming earning estimates. Based on the recent market response, many of these factors seem to be already in play, and the stock price suggests that the market might be adjusting its expectations about iPhone and iPad sales. With more information coming in, I expect iPhone sales growth to have a huge slow down, at least prior to the release of the iPhone 5. Moreover, iPad sales are unlikely to grow as fast as many expect.
Apple's financial health and business are in no doubt. The question is all about Apple's stock price. How bad is it going to be? Here are the projections:
1. AT&T (NYSE:T) reports that it sold 4.3 million iPhones during the first quarter of 2012, a 19.4% increase from 3.6 million during the same quarter in 2011. Verizon (NYSE:VZ) sold 3.2 million iPhones during the first quarter of 2012, up from 2.2 million during the same quarter in 2011. Considering Verizon only started to carry iPhone in February 2011, iPhone sales had virtually no increase at Verizon. With both AT&T and Verizon's numbers, it is safe to say that iPhone sales in the United States are in the range of a 10-20% increase from 2011 to 2012. During the last quarter, AT&T and Verizon combined sold 32% of all iPhones. This gives the projected iPhone unit sales of approximately 23 million, far below the median expectation of 30 million. Even if iPhone sales grow faster in developing countries, the number is unlikely to be more than 27 million.
2. Google search shows virtually flat worldwide trends in iPhone search during Q1 2012 as compared to Q1 2011, further confirming that iPhone sales will be stagnant during the time period. It is not even clear if the markets out of the U.S. will have growth rates higher than 20%.
Click to enlarge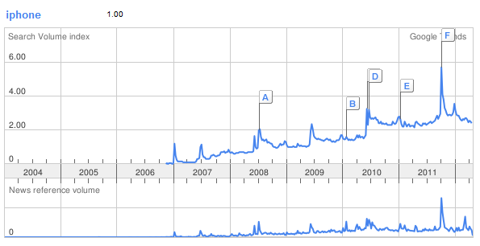 3. Google search shows 30-50% increase in consumers' interests in iPad. That gives 9.5 million to 11 million iPad sales in Q1 2012 (from 7.33 million in Q1 2011). That is again well below expectations. Some earlier reports from China also suggest that iPad production lines were not operating at their full capacity.
Click to enlarge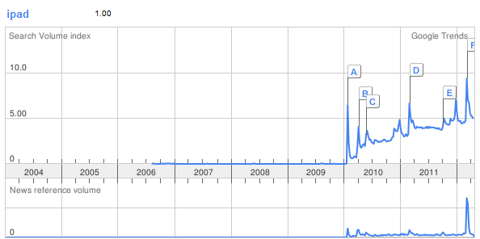 So, investors who hold Apple shares, hold on, as 2012 is likely going to be a tough year after all.
Disclosure: I have no positions in any stocks mentioned, and no plans to initiate any positions within the next 72 hours.