This is part two of a series of reports on Cullen/Frost Bankers (NYSE:CFR). In this report, we will focus on the keys to investment thesis, risks, and industry outlook.
Keys to Investment Thesis
We like that Cullen/Frost Bankers has a very low cost of funding. Non-interest bearing deposits account for 37% of deposits in 2010 and 39.8% in 2011, giving the firm a significant cost of funds advantage relative to its peers. The company has seen steady deposit growth since 1993. In 2011, Cullen/Frost Bankers generated 15.72% total deposit growth and 24.5% growth in non-interest bearing deposits.
Click to enlarge all images.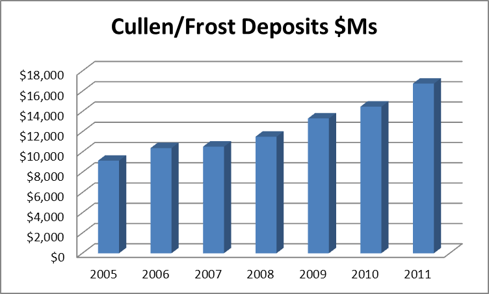 Source: Standard & Poor's Capital IQ.
Cullen/Frost Bankers' Issued Debt only accounts for 1.1% of assets. The firm has been able to finance bank operations with stockholders' equity, Fed Funds purchases and securities repurchase agreements, and customer deposits, which is a cost of funds advantage vs. other banks.
The firm has been able to grow dividend payments every year since 1993, while many of the larger competitors were forced to cut dividends. We expect Cullen/Frost Bankers to increase the annual dividend by $.10 (5%) from 2012-2015.

Source: Morningstar Direct.
We like that Cullen/Frost Bankers has asset management and wealth management businesses. Frost Investment Advisors LLC is a subsidiary of Frost National Bank and has a 90-year legacy of managing Frost Bank's trust accounts. The portfolio management team manages mutual funds, institutional separate accounts and high net-worth client trust accounts. Frost Investment Advisors managed $10.3B as of 2011, up from $9.9B in 2010, but down from $10.4B in 2009. About 85% of Frost Investment Advisors' mutual fund assets are in institutional share class, according to Morningstar Direct. Retail A class shares were introduced on July 1, 2008. Frost also oversees $14.9B of custody assets, down from $15B in 2010 but up from $12.3B in 2009.
We are satisfied with Frost Investment Advisors' institutional fund and separate account composite performance. Frost Mutual Funds Institutional Share classes and separate account composites have earned at least a 3 star rating according to Morningstar. About 60% of Frost's mutual fund and separate account AUMs are in 4-star-rated funds or composites. Investment Trust fees peaked at $74.6M in 2008 and have not seen a rapid decline from 2009-11, unlike other banks. 2009 trust fees were $67.3M, 2010 trust fees were $68.4M and 2011 trust fees were $73.2M.
We also like Cullen/Frost Bankers' position in the insurance brokerage segment. Frost Insurance Agency, Inc., is a wholly owned subsidiary of Frost Bank that provides insurance brokerage services to individuals and businesses covering corporate and personal property and casualty insurance products, as well as group health and life insurance products. This business earned a 3% increase in insurance commission revenues in 2010 compared to 2009 and a 4% increase in 2011 compared to 2010 which was helped by the May 1, 2011, of Clark Benefit Group and completed the acquisition of Stone Partners, a Houston-based human resources consulting firm that specializes in compensation, benefits and outsourcing services.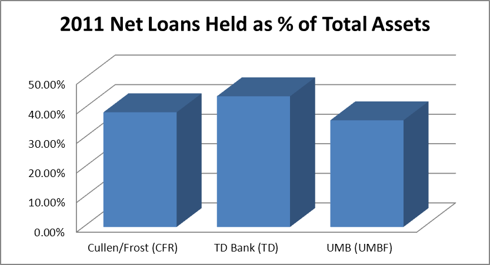 Source: Standard & Poor's Capital IQ.
We like Cullen/Frost Bankers' loan book. The firm saw a small 1.5% decline in its loan book on a year over year basis, however earning assets grew by 17% due to the rapid increase in investment securities. Real Estate loans saw a 5.4% decline in balances and consumer loans declined by 10%. Allowance for loan losses was $94M and represented 1.51% of total loans. The loan loss coverage is more than 90% of the firm's non-performing loans whereas the median industry allowance reported would cover barely half the non-performing loans. We don't mind this because Cullen/Frost Bankers has had fast growth in total earning assets and are willing to sacrifice a little bit of yield rather than make risky loans that may result in credit losses. We noticed this from Commerce Bank in Cherry Hill, N.J., (which was acquired for 3 times book value by TD Bank (NYSE:TD) in 2008), Commerce Bank in Kansas City (NASDAQ:CBSH), and UMB Financial (NASDAQ:UMBF). It appears that TD Bank, Cullen/Frost and UMB Financial are all following in Commerce Bank's (Cherry Hill) footsteps with regards to focusing on credit quality, rather than yield chasing in each bank's loan book.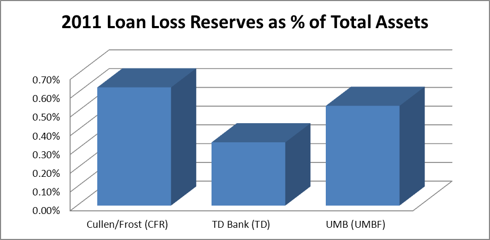 Source: Standard & Poor's Capital IQ.
Risks to Achieving Fair Value Target Price
Failure of investment community to recognize Cullen/Frost Bankers' competitive advantages, resulting in a stagnant or declining price/earnings ratio.
Failure to obtain revenue or expense synergies from an acquired business
Continued flattening of yield curve serving to compress Net Interest Margin from Cullen/Frost Bankers' mix of interest earning assets.
Economic headwinds (European debt crisis) affecting asset flows and market valuations of client assets under management in the asset and wealth management businesses.
The potentially negative impact of Dodd-Frank and the Patient Protection and Affordable Care Act on Frost Insurance Agency. Dodd-Frank has already served as a headwind for overdraft service fees and credit card interchange fees.
Cullen/Frost Bankers operates entirely in Texas and part of the Texas economic boom has been due to the rapid increase in the price of oil. Energy loans make up the largest industry loan concentration for its loan book at 10.9% in 2011 (9.9% in 2010). If the energy industry sees another correction in the price of oil like in the 1980s, Cullen/Frost Bankers may experience unexpected loan losses.
Loss of key personnel.
Financial Health
Cullen/Frost has a strong balance sheet. It has about $19.45 billion of cash, loans and other investment related assets, which represents 95.8% of the bank's balance sheet assets. Cullen/Frost Bankers has minimal issued debt due to the bank's ability to gather customer deposits ($16.76 billion), utilize wholesale Federal Funds overnight borrowings at the Federal Reserve ($722million) and solid stockholder equity capital base ($2.283 billion). Cullen/Frost Bankers has generated 10.01% return on equity in 2011 and10.30% in 2010 and we estimate that the firm will increase the quarterly dividends by 5% next quarter. We are also pleased that Cullen/Frost Bankers generated over $248 million in free cash flows (Net Operating Cash Flows minus Net Capital Expenditures and Cash paid for Acquisitions), which was over 110% of Cullen/Frost Bankers' Net Income, which shows that the bank is able to convert net income to free cash flows which it can use to benefit shareholders. Also, Cullen/Frost Bankers returned nearly $112 million in cash to shareholders in the form of dividends, which was partially offset by $5M in net stock issued through employee compensation programs, which shows a prudent balance between building capital for future use and providing an immediate reward to shareholders. We are also pleased by the firm's profit margins, which were 25% in 2011 and were 22% even during the depths of the financial crisis in 2009.
Banking Industry Outlook
We expect the banking and diversified financial services industries to continue to consolidate, as weaker banks and non-bank institutions either get seized by the government or sell out to stronger banks. Overall credit losses are expected to have reached a peak in Q2 2010 and to decline for the rest of the year and in 2011, which will strongly lift bank earnings. However we are concerned that the European debt crisis will serve as an economic headwind as well as potentially impact balance sheets of banks and other financial institutions.
However the banking industry has been facing declines in loans and total assets as banks attempted to mitigate the damage from the recession and credit crunch by letting loan and security portfolios runoff while reducing the amount of new credit extended to customers in order to improve capital ratios as well as to build loan loss reserves. We expect loan and total asset balances for the industry to remain stagnant in 2012 and into future years, until there is more certainty with regards to an economic pickup and also greater regulatory clarity. We feel that banks that derive a large proportion of revenues from asset management, administration, and other fee-based businesses other than those impacted by Dodd-Frank will outperform comparable banks in the industry.
Overall, we feel the industry is fairly valued, however we would use declines in the market to add to positions in high quality banks like Cullen/Frost and gains in the market to sell weaker banks. On balance we prefer UMB Financial due to its stronger presence in asset servicing, asset management and wealth management over Cullen/Frost Bankers, but Cullen/Frost Bankers is one of our top 10 banks with regard to investment merits. We feel that both these banks compare favorably with the old Commerce Bancorp in Cherry Hill, N.J., which was acquired by TD Bank for three times its book value in the middle of the 2008 financial crisis and which has helped TD Bank become a leading U.S. banking and financial services institution, as well as a leading Canadian banking and financial services institution.
Disclosure: We do not own CFR, we own UMBF.
Disclaimer: Saibus Research has not received compensation directly or indirectly for expressing the recommendation in this report. Under no circumstances must this report be considered an offer to buy, sell, subscribe for or trade securities or other instruments.