By Scott Martin
The corn chart looks eager for a short-term bounce, but the longer trend looks bearish as U.S. farmers dedicate more acreage to the crop than ever, creating a glut that neither ethanol production nor an Argentine drought can overcome.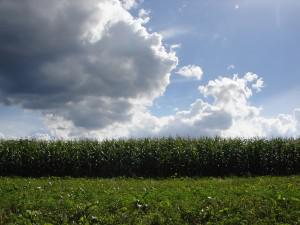 Last week's crop report confirmed what commodity traders have been saying for weeks: there is going to be too much corn come harvest time to support current prices, no matter how much Chinese demand ends up taking off the market.
Argentina is still suffering from significant drought conditions, but the USDA estimates that the weather there will end up trimming only 500,000 tons of corn from the second-largest exporter's harvest this year.
As a result, corn prices have sunk 21% over the last 12 months, taking the Teucrium ETF (NYSEARCA:CORN) with them and acting as a drag on broader-based agricultural ETFs like DBA.
The corn bulls point to China as a buyer of last resort, but while it can be fun to think about the world's second-biggest economy having a theoretically bottomless appetite for raw materials, the truth is very different.
China has become a net buyer of corn in recent years, but especially where corn is concerned, it is still almost entirely self-sufficient, buying a net 6 million tons a year. And with four times as many people as the United States, China still uses only 70% as much corn as we do.
Meanwhile, less corn is being diverted to ethanol production. The USDA says the rate at which food is being turned into fuel has declined significantly in the last six months while existing ethanol stocks remain at two-year highs.
In all, ethanol is expected to pull "only" 4.95 billion bushels of corn off the global market this year, freeing up 1.35 million tons of grain for food purposes — and more than covering for Argentina's shortfall in the process.
The USDA is guiding traders to expect $5 a bushel by the end of the year, down another 19% from present. That bodes badly for CORN, naturally, but even so, the ETF looks deeply oversold here and could be ready for a 4% to 5% bounce.
In the longer term, a corn glut would be a huge bonus for poorer grain importers in the Middle East and North Africa, which have come to depend on relatively cheap supplies to feed their increasingly volatile populations. Food inflation was a major factor in the uprisings of last year, so any relief here would give the bruised economies — and political systems — of countries like Egypt (NYSEARCA:EGPT) time to heal.
Without ethanol as an outlet, a big corn surplus will also be diverted into long-life foods and other industrial applications. Think corn syrup, which means you should be looking at Corn Products International (CPO) to benefit from lower input costs and possibly higher margins as well.