I have looked at Sirius Radio (SIRI) and read numerous reports to see what is happening with the stock at the present time. I am not seeing a favorable outlook right now. It appears that the trend is to sell your stock, take your profits, and come back later. Let me explain why.
Sirius' fourth-quarter investor guidance was considered conservative when it came out, as investors were looking for more projected growth. When the company has its conference call May 1st, investors are going to be looking for something better. Indications are that auto sales are trending upward. Sales this first quarter have been better than expected, exceeding year-to-year numbers -- 400,000 better than last year! Sirius XM is being thrown into a position where it may have to raise subscriber guidance. More sales mean more satellite radio equipped cars. This is the good point.
The bad point is that Sirius may have seen its high for a while. There are two possible reasons for this:
Present Debt Load
Insider Selling
Present Debt Load
It is no surprise that the company has a debt load of $3 billion as investors anticipate increasing revenue year after year to deal with it. With a cash position of $774 million, the stock is selling for almost 3.3 times revenue, and some look at this as an expensive stock because of it. It wouldn't take much to eat into that revenue if the economy deteriorates again. Remember, we are coming to the time when we "sell in May and go away." The company has risen 20% since the year started, and we do have some global events that could easily send the economy floundering:
A market selloff later this year
Unresolved tensions with Iran's nuclear program
The potential for another U.S. credit rating downgrade and debt ceiling debate
It would take just one of these to send the economy into reverse and shrink the revenue stream. This would greatly affect the debt load and ability to pay that debt off.
Insider Selling
Mel Karmazin, CEO of Sirius XM, just reported selling over 11 million shares on April 16 and 17, 2012, for $2.18 and $2.23 per share. Plus, other insiders have been selling in 2012. Sometimes, is it best to take cues from insiders and sell when they sell? Come May 1st, investors are going to be looking for better guidance, so how are they supposed to take this selling of shares? Astute investors must wonder why any insider -- much less the CEO -- would sell shares only two weeks ahead of the report. I personally would look at what is going on and consider if the CEO lacks confidence in the stock to go higher.
So we have the stock trading at $2.22 and the CEO selling early. Would he sell if he thought the stock was going higher? Liberty Media, which has been talked about in regard to buying the company, will not pay over $2.50 a share. Between the macroeconomic conditions, insider selling and the time of year, it seems as if the stock may have already peaked for the foreseeable future. It looks like a time to either sell and take profits or wait on the sidelines before getting in.
Click to enlarge image.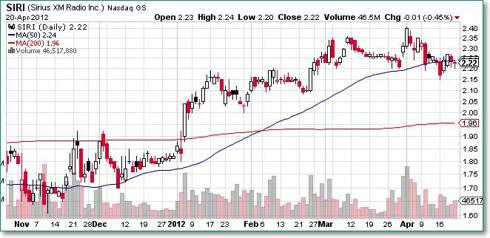 The Options Play
For those who like option plays, I can see buying June 2012 "2" put option and holding it to see how far the stock moves. There is good support at $2.10. Even if the stock falls that much and the option increases in value 20%, it is a good move. The option presently is trading at $0.07, so the price is not that bad.