One of my most frequent mistakes in trading has been the inability to accept what the market is telling me. Hopefully, I won't make that mistake this time.
In the opening months of 2010, 2011, and this year, we saw sharp moves up in the equity and commodity markets, and generally solid economic data (presumably coinciding with better consumer confidence and ease of credit).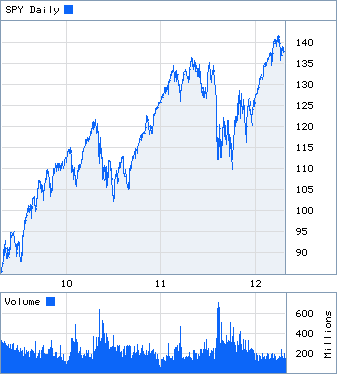 Source: Fidelity.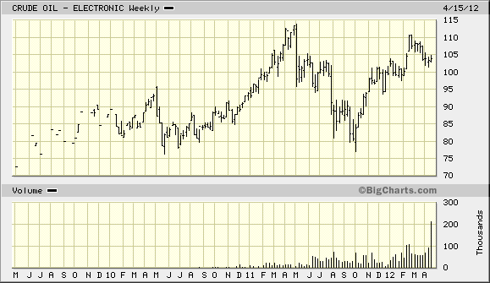 Click to enlarge image.
These charts of the SPDR S&P 500 ETF (NYSEARCA:SPY) and three-year price history of WTI Crude Oil display the following pattern:
Large, bullish, and correlated early-year moves as a result of massive incremental central bank stimulus.
Extremely bearish, volatile moves to the downside beginning around May, and accelerating into the summer months as stimulus either ends or is perceived to be ending.
Oil prices come down substantially, allowing the Federal Reserve to reinflate risk assets, which of course include equity prices. Typically, the market rallies into the new year.
This pattern is well known, but bears like myself (and I'm sure others) have had a difficult time staying disciplined enough to ride it through.
Currently, oil prices are far too expensive to announce a new round of easing in any form. Some are calling for a liquidity-neutral purchasing of mortgage backed securities, a move like that would still add positive flow to the Fed's balance sheet, signaling investors to start moving into riskier assets. All risky assets will have to decline substantially before the Fed is able to restimulate.
For this reason, I am still short the SPY via long June SPY puts, and will likely remain so until oil prices come down far enough to allow room for more stimulus. I suspect the Fed sees $85-$90 barrel WTI crude oil as low enough for additional easing. However, I expect Wednesday's FOMC statement to begin hinting at "additional" stimulus, as opposed to "continued" easy monetary policy. Though the statement is unlikely to specifically outline a stimulus program, a short relief rally could be sparked, scaring off bears. Going flat before midday on Wednesday is a good way to avoid gambling, unless you're content with a short position going against you for a while.
With major market leaders like Apple (NASDAQ:AAPL), Priceline (NASDAQ:PCLN), and Bank of America (NYSE:BAC) entering correction or even bear market territory, this appears to be the clear beginning of an overall market correction of 10% or greater.
The trading outlook for the remainder of the year is unchanged. I expect a downward trend into the summer months, and another attempt at massive stimulus to reinflate all risk prices and get credit flowing again towards the end of the year.
Disclosure: I have no positions in any stocks mentioned, and no plans to initiate any positions within the next 72 hours. I am long June SPY puts.