If you can't find a place to park, don't blame Standard Parking Corp. (Nasdaq: STAN). The company, which handles more than one million spaces in hundreds of U.S. cities, shirks risk and confidently returns 10% to 15% each year, putting to rest the dingy days of garages past.
Standard manages parking and ancillary services for major office buildings, residential and commercial properties, airports, shopping centers, event complexes, hotels and medical centers. The Chicago-based company handles parking throughout the United States, including Chicago's O'Hare International Airport, Harvard's Medical School in Boston and Los Angeles' Westfield Shoppingtown. Standard views university parking management as an opportunity, particularly considering that campus populations can reach the size of small cities.
Standard's business model works because it makes its clients money. A pleasant, if not delightful, parking experience can fatten profits. Tenants, visitors, prospective shoppers and everyone else leave a destination with a parking impression, either good or bad. Standard, which owns no facilities, wants clients to outsource parking services so that Standard can make more money for them. In turn, Standard retains clients and adds new clients.
Speaking at the William Blair and Co. Small Cap Growth Conference on Oct. 1, CEO James Wilhelm said the company historically makes clients 15% to 20% more than they previously made. Management also has been good to investors, returning an annualized 48% on investment for the past three years.
The company has earned a solid reputation since incorporating in the 1990s and going public in 2004; its parking roots go back to 1929. Standard's client retention rate is 89% in the 12 months through June, consistent with 92% the previous year. Profit per location is rising, too, as Standard adds services. For the second quarter ended June 30, average gross profit increased 11%, to $10,600 from $9,500.
Parking, while lacking the clarion buzz of other industries, has its own hum of technological and entrepreneurial machinery, what with premiums people pay to park in big metro markets. Just this month, the Chicago Sun-Times noted a young company called ParkWhiz, which runs a website for people to buy and sell access to parking spaces. ParkWhiz is now marketing the Lyric Opera of Chicago's valet parking spots and also compiles industry data; it is reportedly talking with Standard and others about marketing excess parking inventories.
Maybe there's something in the Chicago River. A company called The Parking Spot, also based in Chicago, runs funny yellow-with-black-spots shuttles between off-site lots and airports. Started in 1997, it now operates at 10 U.S. airports, according to a spring story in Forbes Small Business Magazine. The Parking Spot calms frazzled air travelers with copies of USA Today and other little treats. It also offers valet parking service—one of the courtesies Standard offers its clients as well.
Talk about an evolution. The smart and the quick are doing away with grimy old garages and overgrown weed patches. Mom-and-pop parkers are dying off and feeding a new technologically efficient and client-focused generation. This is a fractured $30 billion U.S. industry made up mostly of private companies, few of which operate nationwide. There are hundreds of small regional or local operators, and many that provide parking in connection with property management—home-cooking for a company like Standard.
All of this plays into the company's strategy. Standard manages about 20% of the 40,000 U.S. pay parking facilities, making it a top national player. It wants new contracts, acquisitions, alliances and partnerships. With a market cap of $392.74 million, Standard wants to pursue acquisitions both small and large, in its core parking management and in growing ancillary services, such as valet parking, shuttles, security and various additional customer comforts.
In just the third quarter through September, Standard made four acquisitions, buying contracts in Chicago, Honolulu and Los Angeles, and purchasing security services from a regional southern California company. Annually, these four acquisitions are expected to generate approximately $3.6 million in gross profit and $2.3 million in EBITDA. The company, while still seeking acquisitions, is also still happy with its reliable growth—an unusual trait for a small cap.
"We are a consistently predictable grower," Wilhelm told the William Blair conference, stressing that Standard has a risk-averse business model. He said costs of Standard's business are fairly easy to control. The company has lowered leverage to about 2 times EBITDA and he expects to dependably grow earnings at 12% to 15% organically.
Strong operating cash flow near $33 million in the past 12 months has allowed the company to pay off some debt, invest in technology and buy back shares. At the time of the conference, Standard was trading near $42 per share—near the top of a 52-week of $31.06 to $42.95—and Wilhelm said the stock was undervalued. Shares closed Tuesday at $41.61. Standard's 52-week low is 31.06.
William Blair analyst Bruce Simpson, one of three covering Standard, carries an "outperform" rating and profiles the company as a "core growth" holding. Standard's low employee turnover rate of 40% per year means it is enhancing its image as a premium provider, Simpson said.
He also noted Standard's progress in winning contracts in New York City. NYC historically is built around lease contracts, which Standard tries to avoid. "By having won 50 locations in the city, Standard is helping convert this region to the management contract model," Simpson wrote.
Acquisition trends also are favorable, with industry lion Central Parking reorganizing after going private and competitor ABM Industries, Inc. (NYSE: ABM) focusing on the janitorial market. Standard has a "solid pipeline of possible additions to its hub-and-spoke network," he wrote.
Earnings for 2007 through December are estimated at $1.56, and Simpson puts 2008 earnings at $1.78. For the third quarter through September, the average of three analysts is for earnings of $0.39; Standard is expected to release its third-quarter results after today's market close.
Simpson added that he likes the predictability and market opportunities of Standard for longer-term accounts, but cautioned that current strong valuation probably limits upside gains from current levels for awhile. He noted Standard is trading at record valuation on a number of fronts; Monday, its PE ended at 27 based on 2007 earnings.
Trying to find a perfect parking spot can be maddening, and so can waiting for a reasonably priced, reliable small-cap growth company. Based on Standard's (STAN) business model and industry opportunities, investors may not want to wait too long.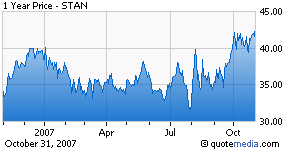 Disclosure: none