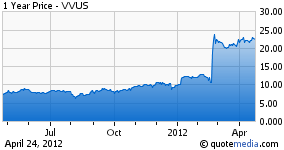 Vivus (NASDAQ:VVUS), the small pharmaceutical company continues to make headlines with its multi-use Qnexa drug candidate.
Shares of the company more than doubled in February after a U.S. Food and Drug Administration Endocrinologic and Metabolic Drugs Advisory Committee recommended their drug Qnexa be granted marketing approval by the FDA for the treatment of obesity in adults. The Committee voted 20 to 2, on the recommendation for an approval based on a favorable benefit-risk profile.
While the FDA is not bound by the recommendations of its advisory committees, it will consider the guidance and this significantly increases the likelihood of an approval on the official PDUFA date- which was recently extended by three months. This marked the latest delay to bring a new obesity treatment to market and investors will now have to wait until July 17th, 2012 to have official approval for Qnexa as regulators need more time to review the Company's risk evaluation plan for the drug.
Vivus' late submission of the important Risk Evaluation and Mitigation Strategy supplement to the NDA caused the 3-month delay of the FDA's response and shows that this is not the "slam dunk" approval that many biotech traders felt it was when shares shot up to their 52-Wk High ($ 25.14). An estimated 13.5 million shares are currently betting to the short side here, but that is a -17.50% decrease from last month when there were nearly 16.5 million shares short.
According facts compiled about the SEQUEL Trial for Qnexa published by The American Journal of Clinical nutrition, patients treated with Qnexa had significant and sustained weight loss compared to those in the placebo group over the two years. The average weight loss, at week 108, was -9.3% and -10.5% respectively for the mid and top dose groups. The placebo group only had a change of -1.8%.
Also observed were improved cardiovascular and metabolic risk factors. Placebo patients were three times more likely to progress to type 2 diabetes relative to the group receiving top-dose Qnexa, and two times more likely relative to the mid-dose Qnexa group.
While Qnexa is being filed separately for the treatment of diabetes, speculators are particularly excited about its potential as a weight-loss drug due to the lack of real competition in that market. Still, the BioMedReports FDA Calendar shows five different upcoming milestones that investors should be paying close attention to-- all in 2012.
That includes an entry for another drug that Vivus is filing an NDA for, avanafil (for ED) has a designated action date of April 29, 2012 which may grant an approval and provide some positive momentum for the stock prior to the more anticipated decision for Qnexa. Since the ED market is much more crowded, it is unlikely that we will see anything like the hype associated with Qnexa even if avanafil is approved. Still, it could provide a chance to scalp profits off of a drug approval and growing anticipation of Qnexa's likely approval in July.
Disclosure: I have no positions in any stocks mentioned, and no plans to initiate any positions within the next 72 hours.