Kaydon (NYSE:KDN) got punished Monday after it's profit slipped and the revenue number came in below analyst expectations. After a big initial intraday drop below $50 on Monday, the stock has recovered nicely and closed the day today $53.79. It's still down from it's $55.30 pre-earnings price. I think there is an opportunity here, especially if it goes back below $50.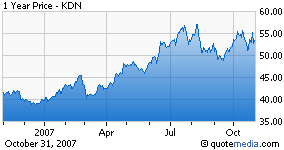 I sold my Call Options on Friday before earnings since I had a nice profit and didn't know what to expect with the earnings call. It was just a gut call since I have only held and followed this company for a short time. I would prefer to buy some long term calls again, especially if it goes below the $50 mark.
Before we get into the third quarter highlights, you should read my previous article on Kaydon and/or Hilary Kramer's article on Kaydon. This is a relatively unknown stock so this will give you detailed information on what this company is all about. You can also look at the third quarter numbers here.
Now here's why Kaydon is attractive as a Wind Energy Play:
Kaydon announced the acquisition of Avon Bearings for $55 million in cash strengthening their Wind Energy segment.
$115 million run rate for wind by the end of FY'08
Continued expansion of its Wind Energy business.
CEO James O'Leary: "We are highly confident by the end of this year, we are going to have two of the major top tier wind energy people"
"Our capacity expansion is proceeding. We'll provide Kaydon with substantially increased manufacturing capacity to satisfy the rapidly growing wind turbine demand for advanced custom specialty bearing assemblies, up to 11 feet in diameter for new, large wind turbines, up to three megawatts of capacity. This is supplemented by the Avon acquisition which we believe gives us the capability to make the largest bearings in North America" (Seeking Alpha Conference call Transcript)
"During the quarter, we had record third quarter order entry of $117.3 million up almost 26% year-over-year, leaving us with a record quarter end backlog of $211 million going into the fourth quarter" (Seeking Alpha Conference call Transcript)
Following are some excerpts from Merrill Lynch's Report on Wind turbine manufacturers (.pdf):
Bearings

As with gearboxes, severe shortages have occurred in this industry over the last couple of years and one of the reasons appears to be the increase in activity across all heavy industry in general. For most bearing manufacturers, wind still represents only a small part of their business. Two of the largest suppliers of bearings to the wind industry, SKF and FAG are both increasing production but as with gearboxes it will be sometime before supply matches demand. The shortage appears to be particularly acute on large bearings and the delivery time from both SKF and FAG for customers without a framework agreement is over 16 months. In increasing turbine sizes, one of the most problematic areas has been failures in bearings used in gearboxes. As a result manufacturers have been reluctant to use new suppliers.

Over 80% of the profit warnings in the wind turbine manufacturing industry have come from gearbox issues, primarily malfunctioning bearings but also unforeseen issues with various gearbox designs

Wind Energy

Many new power plants in the post 2010 time period will inevitably be wind farms as the expectation of high carbon prices coupled with high oil prices are dis-incentivising power companies from building fossil fuel fired power plants. In addition solar energy remains relatively small scale. The world's largest solar power plant is a 40MW project comprising one million solar panels, by contrast the world's largest wind power plant is almost 20 times the size at 780MW. Solar is thus far less suitable for large scale roll-out of renewable energy capacity.

IPO pipeline mainly Chinese Solar but large utilities betting on wind: The IPO pipeline has been primarily solar (and predominantly Chinese solar companies), but asset based financings in the sector have been heavily skewed to wind (see Chart 35 and Chart 36) and we expect to see this trend maintained going forward).
As a side note, reading this Merrill Lynch report makes me want to revisit Zoltek (NASDAQ:ZOLT). I haven't been following it lately but made a small profit on it a few months ago. I sold it too quickly.
Disclosure: no position in Kaydon (KDN) or Zoltek (ZOLT) at this time. Could change anytime without notice.