We nominated Apple (AAPL) as the charter member of the "Dividend Inevitables". We didn't encounter anyone who questioned the inevitability of them paying and increasing dividends for the next five years. What about their price prospects?
Everybody seems to have a price target for Apple, so why not us too.
One problem we have with price targets when investors fall in love with a stock, is the potential for rose colored glasses getting in the way.
The dividend increase has a more certain path upward in the short-term, than the price, we think.
Whether Apple meets expectations or disappoints on revenue and/or profits, they are certain to follow through with the new dividend distribution program. However, should they disappoint, and that risk increases with each success and each quantum leap in investor expectations, the price growth would be trimmed, and maybe decline somewhat.
Prices are almost always less certain than dividend streams.
(click to enlarge)
The Dividend:
Because we nominated Apple as the charter member of our "Dividend Inevitables" list of future Dividend Challengers and Contenders (hard to say about becoming a Champion), we thought a closer look at Apple was imperative.
The Street Consensus 2013 dividend from Apple would put the yield on the April 20 price at about 1.85%. However, on a higher future price the yield would be correspondingly lower.
Given the extraordinary liquidity of Apple, and their exceptional cash flow generation, we should expect continued and strongly growing dividends. They would have been foolish to embark on a dividend payout policy without the intention of making a strong showing in that dimension too. For those who can way for the dividend growth to gain some momentum, we think Apple is a reasonable addition to a dividend growth allocation within a portfolio.
The Price:
We own Apple, but don't take comfort in nice big round numbers like $1,000 with fuzzy target dates -- Yes, we know the rule is to predict price or date, but never the two together.
We have heard price targets from dozens of well known experts, but seldom have they provided the detail of how they got there. So, we decided to see if we could build our own simple scenarios and then share just how we got there, so others can take them, leave them or adjust them. At least that gives up something to work with, and maybe you too.
We have tried to take our own emotions out of a set of possible price outcomes, which we based on analyst projections of operating numbers applied against 2011 actual valuation multiples.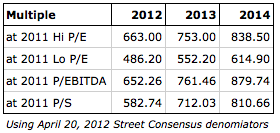 The result of that approach comes up with a range of plausible year-end prices for Apple between $486 and $663 this year; from $552 to $761 in 2013; and from $614 to $879 in 2014.
These ranges are obviously dependent on the valuation multiples not rising or falling, and the Street Consensus revenue, EBITDA and EPS being on target.
Those calculations make $1,000 seem optimistic, but anything could happen, of course.
According to ThompsonReuters, the range of price estimates for 2012 goes from a low of the high $200's to about $900 -- up substantially from very recent estimates..
Our $486 to $663 is in the lower half of that range. Only a few months ago, our estimates would have straddled the mean estimate with an upside bias.
(click to enlarge)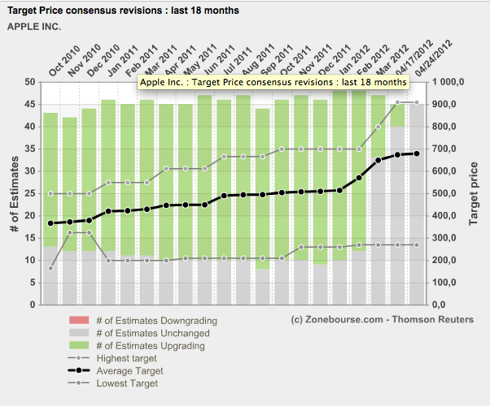 Apple's big risk these days is probably disappointment. Not that they won't do fabulously well, but that ever mounting investor expectations may get ahead of the reality. Disappointment can be punishing to stock prices.
Because there will certainly be a reader wishing to bash our estimate because they think we don't like Apple, let us say this. We own the stock, and we own their stuff.

We are committed Apple customers with their products in our homes and office, with only enough PCs to run those programs that can't run on Apple. We tried the BootCamp root to avoid PC's altogether and find it unsatisfactory, and some programs won't run on Windows in BootCamp either.

We have their phones, their tablets, their laptops, their desktops, and their router/backup devices.
A wise man one said to me, "Marry a woman, but not a stock." We are unlikely to stop buying Apple products, but may not always want to own Apple stock. It is possible to be totally in love with their products and not necessarily in love with their stock
A company's operations, its products and its stock prices are not the same thing, and need to be evaluated separately.
Historical Data and Street Estimates:
Here is the data we used in development of our internal set of price ranges:
The data came from different sources and does not line up perfectly, so we dealt in a "good enough" range of accuracy.
The green shaded data is historical. The orange shaded data is Street Consensus for 2012. The yellow shaded data is Street Consensus for 2013 and 2014
Some of the fields are calculated, but they are just math operations on data from other parts of the same table. They are marked as calculated in the third column from the left.
Bottom line, we think the $1,000 near-term price may be overly optimistic, but would gladly accept being proved wrong. We won't however commit new risk capital based on the hope that $1,000 near-term is the right number.
Disclosure: QVM has positions in Apple in some accounts as of the creation date of this article (April 24, 2012).
General Disclaimer: This article provides opinions and information, but does not contain recommendations or personal investment advice to any specific person for any particular purpose. Do your own research or obtain suitable personal advice. You are responsible for your own investment decisions. This article is presented subject to our full disclaimer found on the QVM site available here.