GigaMedia (NASDAQ:GIGM) is a freight train of a stock. Typically, I would avoid a stock with such hefty gains over the past several months, but the manner in which they blew through their 52 week high and continue to climb daily is impressive. Also, who would not like a stock whose focus is gaming software for cellphones. People, in general, love to gamble and GigaMedia supplies the platform for gaming from their cellphones, in Europe and Asia no less. Here is an astounding figure: GigaMedia has 68 million registered users. Simple investor logic applies here; cellphone use is growing worldwide, especially in Asia; cellphone technology is expanding; and the cellphone is evolving as an entertainment center. Here comes the fundamental case.
Currently sporting a PE of 45 and a forward PE of 25 this stock is cheap despite the recent runup in share price. Considering its 90% year over year revenue growth, analyst predictions of 35-65% revenue growth over the next one to three years, and healthy 25% profit margins the share price for GigaMedia is beginning to reflect current growth, but ignoring the prospects which will emerge as the cellphone market continues to evolve and cellphone usage penetrates new markets. With debt manageable at 24 million while sitting on 74 million in cash, GigaMedia will continue to thrive in the cellphone software market and is projected to generate 245 million in revenue in 2008.
A conference call is scheduled for November 14th pre-market and analysts are expecting .15 eps and revenue of 42 million.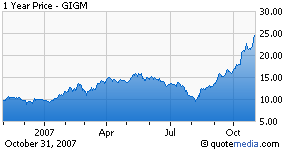 Disclosure: none