Jones Soda Co. (NASDAQ:JSDA) engages in the development, production, and distribution of beverages primarily in the United States and Canada. Its products include sodas, organic teas, energy drinks, noncarbonated juice and tea drink, and Jones 24C, a water beverage. Jones' shares have gone on a wild ride over the last year. Early on, investors believed that Jones' performance would mirror that of beverage competitor Hansen, driving the shares over $30. However, the shares retreated on valuation (JSDA was expensive at over 100x earnings), insider selling, and negative news (one of Jones' smaller customers, Starbucks (NASDAQ:SBUX), dropped Jones products and delays were experienced in the rollout with major retailers). At the current level of $9.29 and despite the broader economic concerns, we think JSDA is a good buying opportunity.
We like JSDA shares mainly due to the significant retailer expansion and new product introductions, both of which represent tremendous long-term opportunities for the company. Earlier this year, Jones Soda inked deals with several major retailers including Wal-Mart (NYSE:WMT), Kmart (NASDAQ:SHLD), Safeway (NYSE:SWY), and Kroger (NYSE:KR), among many others. Before these deals, Jones' products were exclusive to Target (NYSE:TGT), which is a small player in the overall market.
This major retailer channel is more profitable to the company at an estimated 85% gross margin versus high 30% in the core bottled business. The rollout has been bumpy to-date, but may be a significant tailwind to JSDA shares over the next twelve months. In addition to the nationwide retailer roll out, the company also signed on to be the official non alcoholic beverage of Qwest Field (Seattle Seahawks) through 2012, knocking of industry giant Coca-Cola (NYSE:KO) for the contract, which we believe is a huge testament to the quality of the products/management, etc.
Jones is also transitioning from high fructose corn syrup to cane sugar, an ingredient that Jones soda claims to be better tasting, healthier, and more environmentally friendly. This transition will be complete by mid-2007 in all Jones products. The Company is expected to launch new cola products at Qwest Field as well as a new energy drink and should also benefit from the vitamin drinks acquired as part of the 24C acquisition in August 2006.
We believe the nationwide retailer launch and new products offer a tremendous growth opportunity. The company will undoubtedly experience pains during this significant growth phase, resulting in volatile near-term quarterly earnings performance. However, we view the long-term potential for JSDA shares very favorably and would be buyers on weakness. We feel that the reward outweighs the risk and think the company will grow into its rich valuation. There is also a sizeable short interest outstanding, which would further provide a tailwind or "squeeze" on positive news. Looking back twelve months from now, JSDA is likely a good buy at current levels.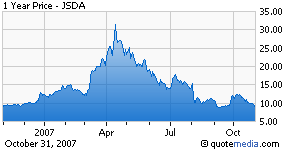 Disclosure: none