Zynga (ZNGA) just made its public offering less than a year ago. The challenge it has now is to expand beyond Facebook. Let's take a look at of a couple of the directions the company is taking to expand beyond its present borders.
Zynga designs games played on the internet. It brings in revenue by selling advertising and virtual goods through its games.
Diversification is the Key
Zynga started with social interactive games on Facebook, and now to expand as a company they are trying to diversify their revenue stream.
Movement to Smartphone Apps Games
Zygna bought OMGPOP, the maker of the top mobile app, Draw Something, for about $210 million. What will this do for Zynga? Draw Something became the top smartphone app game with more than 50 million users. This gives Zynga the ability to cross-promote its other games to users of Draw Something. These are 50 million new clients to potentially introduce to Zynga's games. What this move boils down to how effectively Zynga is able to use its present base to drive usage of its other games.
(click to enlarge)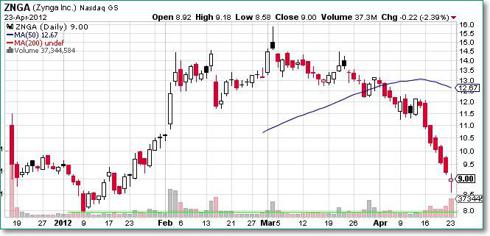 Exploring Online Gaming
The company is talking with casino powerhouse Wynn (WYNN) about a potential online gambling partnership. They want to turn the social gaming that they have into online gaming as another source of revenue. In order for this to work, the company needs to form partnerships with casino operators in those states. Stern Agee Managing Director Arvind said Zynga is unable to participate meaningfully in legalized online gaming here, its shares could fall as much as 10 percent because investors have baked into the share price expectations of new gaming revenue.
We are not bullish on this stock either, and a straight up June Put option with a strike price of 8 (priced at $0.70) looks like a good buy at this time. We do not see a short term solution to the gaming as it is a long term project that will take a lot of alliance building.