Crocs Inc. (NASDAQ:CROX) ("CROX" or the "Company") released Q3 2007 results after the market close on October 31, 2007, and the results and guidance were underwhelming, resulting in an after-hours sell-off of over 20%. Channel checks are one of the most useless tools that the Street uses for determining how well sales are progressing, and the second-tier shops that follow CROX fell into that trap, leading institutional and retail clients into thinking that sales would exceed "conservative" estimates provided by the Street.
It was pretty interesting to see the bevy of "earnings previews" released by the second-tier shops that further hyped the anticipation of Q3 2007 earnings, with some analysts going as far as to say they expected CROX to outperform their own - in some cases - above-consensus EPS estimates. The final results did not exceed the top-end of consensus estimates and guidance for 2007 will likely make investors re-evaluate keeping CROX in their portfolio.
If anything, this jarring surprise now takes the upwards momentum psychology out of CROX and will place an emphasis on determining fair value for the Company, the results of which might shock ardent CROX shareholders.
CROX sold off because Q3 was sequentially very weak with sales growth of just 15% over Q2 2007. Comparable quarters (i.e. Q3 2007 vs. Q3 2006) are generally irrelevant for high octane growth stocks because it's often times an apples to oranges comparison, particularly when CROX had about 50% fewer doors open in Q3 2006. Consequently, the investment community tends to focus on sequential quarter growth and the Street, based on the hype regarding the results of its channel checks, suggested that sequential revenue growth could be as much as 25%, resulting in sales of $280MM and through 59% gross margins and SG&A of 27% could ultimately result in over $0.70 in EPS. Given CROX's aggressive run and valuation prior to Q3, I was prepared/expecting a substantial beat of consensus EPS.
Q3 results fit perfectly into the short thesis that moderating door growth would make increasing sales very difficult to achieve and with CROX in 27,000 doors worldwide, the ability to sell new products would be critical. With just 15% growth over Q2 2007, it's clear that CROX's products did not sell as strongly as investors were expecting. While gross margins were impressive at 61%, all this means is that the Company is at its peak in terms of price point versus market penetration. Early adopters and CROX fans have been reached by the Company and those customers have paid full price for the product, but now, as the Company seeks to drive sales growth from what's to be slowing growth in new doors, those gross margins are likely to pull back perhaps even below management's 55% target.
What's interesting is that many CROX investors have dismissed imitations from Skechers (NYSE:SKX) and Collective Brands (NYSE:PSS) but it's very possible that consumers opted for alternatives from these companies. The demand/pie for the CROX signature clog design has not expanded with PSS and SKX's entry. What has changed is the level of competition for CROX's core audience. This is what ties back to CROX potentially experiencing reduced gross margins in the future. With a more competitive landscape for its core product, CROX will likely have to compete solely on price. If this does occur it would effectively render the value of Croslite as 0 since it would imply that consumers are not willing to pay a premium for Croslite products. With no "technology" backing its products, CROX becomes what many skeptics believe, a rubber shoe company with a short-term "hot" design and no competitive advantage.
The next issue facing CROX is its guidance for 2007. One of the main themes held by investors and the Street was that CROX was transforming into an all year, less seasonal company. With sales worldwide on both sides of the equator, CROX sales in Brazil and other southern climates would offset slowing winter demand for products north of the equator. The full year 2007 guidance staunchly refutes that thesis and even suggests further operating performance deterioration for Q4. Based on the Q3 press release, CROX management is expecting sales of $820MM-$830MM for 2007 with diluted EPS of $1.94-$1.98. Table I illustrates what that means on a sequential basis and presents a Q4 and full year estimate based on these two data points provided by management.
TABLE I: SUMMARY INCOME STATEMENT 2007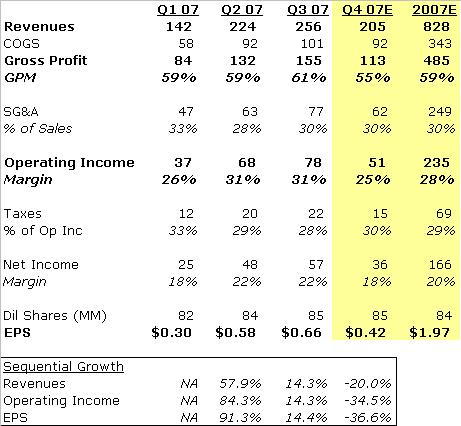 The tax rate will likely be different because I don't incorporate any cash interest income that CROX will recognize, but the key is that sales, operating income, and EPS will all decline considerably in Q4 based on management's guidance. I actually think EPS will be above $2.00-$2.04 only because I expect gross margins to come in around 59%, as opposed to the 55% gross margins that are implied in management's guidance. However, I also suspect that the investment community is thinking the same thing, which means that the Company's actual 2007 results might need to significantly beat $2.00-$2.04 for the stock to regain its footing.
I expect that the investment community will take a much closer look at assessing the Company's value and that CROX may start to trend towards industry multiples. It does not appear as though there are many near-term upside surprises, just a lot of optionality plays in the hopes that CROX apparel or You by Crocs become a major hit. For now, it appears that the Company's core products are going to have the full attention of the Street and investment community. Further, children sales, which account for 30% of U.S. and over 30% of international sales, will be watched closely. More granular information will probably be asked for in terms of how many pairs of Crocs are purchased by children relative to adults (repeat purchases, etc.), and if this figure is high, a lot of attention will be paid to children's trends. Perhaps multiple pair purchases by children played a role in earlier sales growth. This is just a guess, but I expect investors and analysts will go back and really dig through the numbers to ascertain what specifically has driven sales outside of door growth. Due to this heightened scrutiny, CROX will likely experience a valuation discount.
TABLE II: SUMMARY P&L PROJECTIONS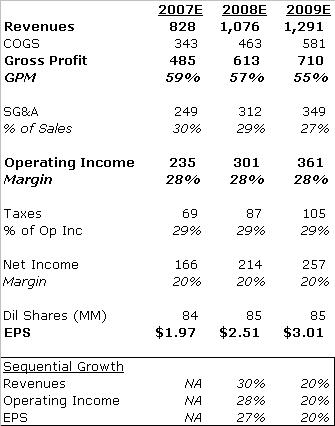 Table II is a very basic projection based on internal estimates for 2007-2009. These are very reasonable assumptions with 30% growth in 2008 over $828MM in 2007 (close to the upper end of management's 2007 guidance), followed by 20% sales growth in 2009. Gross profits are maintained above management's targeted range of 55% until 2009 and some degree of operating leverage through SG&A is assumed, resulting in healthy operating income margins. Nonetheless, the trend is declining operating margins and more importantly decelerating EPS growth.
Investors should keep in mind that while CROX management is expecting to diversify its revenue stream with new products and enhance brand awareness, none of this is guaranteed, nor are repeat sales of existing product lines guaranteed, which is why I feel assuming 30% growth in 2008 and 20% growth in 2009 is extremely, if not excessively, fair. This optimistic growth rate is what drives CROX's EPS growth and with that growth far from assured and operating margins expected to decline, there's no reason to assess a premium valuation to CROX. This results in shareholders wondering what happens if the market starts to assess valuation multiples closer to the industry norm? Tables III and IV attempt to answer that question and use the mean and median multiples based on public comparables.
TABLE III: PUBLIC COMPARABLES - FORWARD VALUATION MULTIPLES (click to enlarge)

TABLE IV: CROX VALUATION COMPOSITE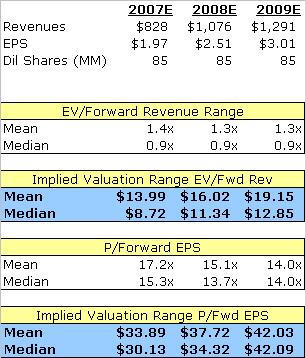 The conclusions in Table IV can be quite startling to CROX investors, but are not unreasonable given the uncertainty in CROX's ability to sustain its previous growth rates or build around and diversify its revenue base. EV/Forward Revenues stock prices are slightly understated (HLYS).
Reviewing operating performance of industry peers illustrates that CROX is probably most akin in terms of revenue growth and operating margins to Heelys. While most players generate single to teens revenue growth and maintain 6-10% EBIT margins, HLYS and CROX have generated triple digit revenue growth and have maintained EBIT margins in excess of 25%.
Coincidentally, HLYS now trades for the lowest valuation in the industry. If CROX cannot generate the tremendous growth that's expected from a company valued at close to 10.0x EV/LTM Revenue, 50+x LTM EPS, and 20.0x tangible book value, CROX shareholders may soon find themselves lucky if the Company is valued even at the industry averages.
Disclosure: Author manages a hedge fund that is short crox and long crox call options.