Accurate market timing is a critical component of successful trading. Fundamentals alone may get you into a good stock, but what if you get in at the start of a downtrend? To increase the odds of winning (for longs), I look for stocks that not only have great fundamentals but also have a positive 5 day expectancy.
The 5 day expectancy is calculated by matching the stock against hundreds of pre-defined patterns. Each pattern is carefully selected using a statistical data mining approach. Using these patterns, I calculate the expectancy based on how the stock has historically performed when matched against those patterns.
Today's scan has produced 2 stocks meeting this criteria.
1. Bed Bath & Beyond Inc. (BBBY)
Sector: Services
Market Cap: 15.93 Billion
Cash: 1.76 Billion
Book Value: 16.77
Gross Profit (TTM): 3.62 Billion
Bed Bath & Beyond is a household name and what you would consider a best in breed consumer retail company. However, for a company of its size, BBBY has an impressive 9.10% quarterly revenue growth. This revenue growth is more than 3x's that of (TGT). Naturally, BBBY has a slightly higher PE 16.77 vs 13.23 for TGT. A PE ratio of 16.77 hardly qualifies BBBY as a growth stock, but compared to its competitors it should be.
The 5-Day expectancy is +1.4%
2. Lowe's Companies Inc. (LOW)
Sector: Services
Market Cap: 37.31 Billion
Cash: 1.3 Billion
Book Value: 13.32
Gross Profit : 17.35 Billion
Lowe's like BBBY is a household name. What stands out most about Lowe's is a PE of only 21.76 vs 20.69 for (HD). If you looked purely at the quarterly revenue growth 11% vs 5.9% for HD you would imagine LOW to be trading at a significant PE premium.
Although LOW has been on a steady up trend since October, it still has room to grow compared to the industry. The industry as a whole has an average quarterly revenue growth of only 2.9%, a far cry from Lowe's 11%
5- Day Expectancy +2.0%
(click to enlarge)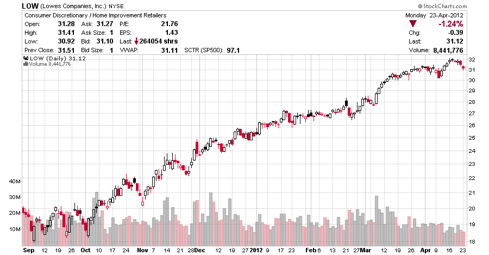 Additional disclosure: The 5 day expectancy only serves as a guide for how the stock may perform. Historical performance is not indicative of future performance.