The five companies covered in this article have above industry average profitability of over 10%. A company's profitability is conceivably the most important statistic to understand before investing in a stock. Each time you consider starting a position in a stock, you should prudently scrutinize its earnings information. The reason earnings are so vital to investors is that they tell you about the relative profitability of a company. Earnings per share is an important derivative of profitability. Earnings per share is defined as the net income of a company divided by the shares of common stock outstanding. With the EPS measure, you are looking at the amount of money left over for shareholders. The value is reported after taxes are subtracted.
Additionally, these stocks have share prices trading under $15. Stocks trading for under $15 often tend to have high betas and are subject to increased volatility. However, as we all know, the higher the risk the higher the reward. The stocks selected are S&P 500 stocks with market caps of greater than $2 billion. This is a speculative screen to find companies that may provide more bang for your buck if the market looks like it's going to move up near term.
I believe we are in for an upswing based on what the Fed will disclose tomorrow. Weak economic data and a resurrection of European political and sovereign debt fears will compel the Fed to present a more dovish stance regarding the possibility of QE3. Regardless of whether this is the correct train of thought, this is what the market wants to hear. I believe Bernanke will not disappoint tomorrow. We were down big yesterday; nevertheless, I knew it would be a temporary situation. In a twitter conversation yesterday with Brian Sullivan, CNBC Street Signs Anchor, I told Brian we would be up significantly today.
(Click to enlarge)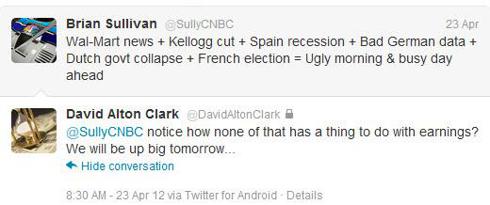 Now, simply screening for mid cap stocks with above average profitability and share prices less than $15 is only the first step to finding winners that may provide alpha. In the following sections we will take a closer look at these stocks and current market conditions. I will provide a brief review of the current market backdrop then perform a brief review of the fundamental and technical state of each company. Additionally, we will discern if any upside potential exists based on sector, industry or company specific catalyst. The following table depicts summary statistics and Tuesday's performance for the stocks.
(Click to enlarge)

Current Market Backdrop
The market was up slightly during the morning session and spiked higher when solid new home sales statistics were disclosed including a robust upward adjustment to the preceding month's figures, although, the consumer confidence was less inspiring.
Later in the afternoon, a burst of selling has challenged the chief equity markets. The Dow and S&P 500 are hitting lows for the afternoon session as the Nasdaq takes a downhill slide to its poorest level of the day. Softness in the Nasdaq is connected to Apple (NASDAQ:AAPL) shares losing ground. Shares of AAPL are now down nearly 3% to trade at their worst level in more than one month, due largely to a slowdown in the pace at which its products are being put to work on networks run by the likes of AT&T (NYSE:T). Apple shares are the most heavily weighted component of the Nasdaq. In the meantime, affirmative reactions to reports from blue chips 3M (NYSE:MMM) and United Technologies (NYSE:UTX) have helped the Dow into positive territory.
Applied Materials Inc. (AMAT)
(Click to enlarge)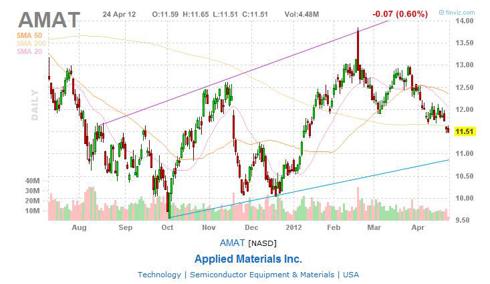 AMAT is down about 1% today. The stock is trading down 26% from its 52 week high and approximately 9% from its recent high. The company has many fundamental positives. AMAT has a forward P/E ratio of 10.25 and an EPS growth rate of 19% for next year. AMAT has a price to book ratio of 1.73. The stock has pulled back to just below its 200 day SMA.
There is no significant news out that would account for Tuesday's weakness. Although, AMAT recently guided lower for fiscal year 2012 which ends in October. The company reported revised numbers for the fiscal year of revenues of $9.1-$9.5 billion and EPS of $0.85-$0.95 ahead of its annual shareholder meeting in late March. The figures are below a consensus of $9.6B and $0.96. The chip equipment giant, which was up significantly year to date, blamed ongoing weakness in its display and solar equipment businesses. I think I would take a wait and see approach regarding this stock. The solar industry seems to be under immense pressure. I think there are better places to make money currently.
Ford Motor Co. (F)
(Click to enlarge)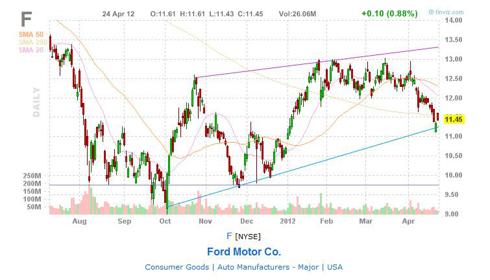 Ford's stock is down 10% for the month and 30% off its 52 week high. Ford has a PEG ratio of .46, a forward PE of 6.63 and an EPS growth rate of 17.01%. The stock has pulled back to its 200 day SMA and the bottom of its upward trend channel. The company has a 15% profit margin and a dividend yield of 1.75%. Standpoint Research upgraded the company in March from a Hold to a Buy with a $17 price target which gives the stock a 50% upside potential.
Additionally, Fitch upgraded the credit rating for Ford to BBB- from BB+. The ratings agency lines up both the company and Ford Credit with a stable outlook on the automaker's "significantly" improved financial performance, balance sheet repair, and product portfolio improvement. Moreover, Ford executives at the Beijing auto show tipped their hands a bit further on the automaker's plans in China, saying four new SUV models will be launched in an effort to tap into the nation's middle class that is just now entering the SUV-buying market. At least two of the models will be built locally, according to the report.
I am bullish on Ford prior to the upcoming earnings announcement. Ford raised its 2012 sales forecast from 14.5 to 15 million units recently. First quarter U.S. sales were the highest in the past four years. March sales for the F-Series were the strongest in five years. I like the stock here.
Fifth Third Bancorp (FITB)
(Click to enlarge)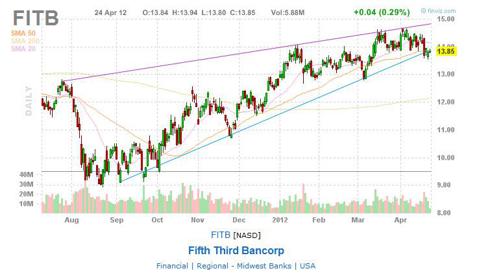 FITB is up about 1% today. The stock is trading down 6% from its 52 week high and approximately 1.5% from its recent high. The company has many fundamental positives. FITB has a forward P/E ratio of 8.97 and an EPS growth rate of 5% for next year. FITB has a price to book ratio of .94. The stock has pulled back to its 50 day SMA. Stifel Nicolaus upgraded the stock in early April from Hold to Buy with a $17 dollar price target implying an almost 20% upside from current levels.
Fifth Third reported positive Q1 results last week beating Wall Street's estimates by $0.09 with an EPS of $0.45. According to a report in Monday's Charlotte Business Journal, Fifth Third Bancorp will repurchase $75 million shares of its stock on April 26, based on a new Securities and Exchange Commission filing. The Ohio-based bank holding company has agreed on a deal with Goldman, Sachs & Co. to be completed on that date, according to Monday's filing. The $75 million after-tax gain it recorded on its stake in data-processing company Vantiv Inc. will enable Fifth Third to buy back the shares. The Federal Reserve said in March, following the release of its stress tests of large U.S. banks, that Fifth Third could buy back shares up to the amount in after-tax gains it realized from the Vantiv deal. I see this as a huge catalyst for the stock. I plan on starting a position prior to the 26th buyback.
Corning Inc. (GLW)
(Click to enlarge)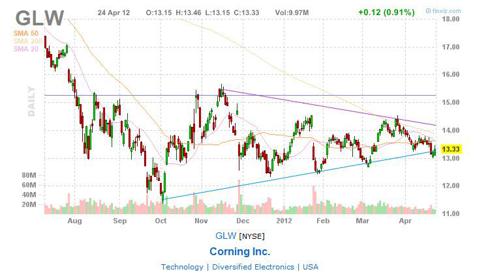 GLW is up slightly over 1% today. The stock is trading down 38% from its 52 week high and approximately 5% from its recent high. The company has many fundamental positives. GLW has a forward P/E ratio of 8.87 and an EPS growth rate of 11% for next year. GLW has a price to book ratio of .95. The stock has pulled back to the bottom of its upward trend line which is bullish. RBC Capital Markets reiterated its Outperform rating in January with a $16 price target which implies a little over 20% upside for the stock.
Corning will report earnings before the market opens tomorrow. Nineteen analysts are calling for a drop of $-0.05 in earnings per share compared to last quarter's results of $0.33. The street is looking for $0.28 per share based on current earnings estimates. Corning announced earlier in the month it will acquire a majority of Becton Dickinson's (NYSE:BDX) Discovery Labware unit for $730M in cash. Corning says the deal will enhance its portfolio of life sciences products and add to its effort to meet its $10B revenue target in the next few years. The real catalyst for Corning in my book is the innovative products. Corning showcased several of its advanced glass technologies during FPD China 2012, held in mid-March at the Shanghai New International Exhibition Center. Corning featured its LotusTM Glass for high-performance displays, next-generation Corning Gorilla Glass, ultra-slim flexible glass, and EAGLE XG Slim Glass substrates. I am sitting out this earnings announcement and look to get into the stock on any pullback.
Huntington Bancshares Incorporated (HBAN)
(Click to enlarge)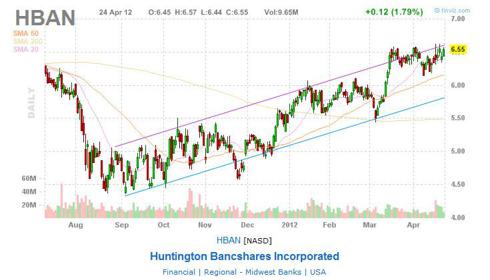 HBAN is up 1.3% today. The stock is trading down 3% from its 52 week high and approximately 1% from its recent high. The company has many fundamental positives. HBAN has a forward P/E ratio of 9.74 and an EPS growth rate of 5% for next year. HBAN has a price to book ratio of 1. The stock is trading 6% above its 50 day SMA and 19% above its 200 day SMA. It is near the top of its current upward trend channel.
Huntington unloaded a deluge of information on the earnings conference call recently, saying that it seeks acquisition targets of $500M-$2.5B in size and is evaluating dividend and stock buyback options. The company will also unveil a new credit card product in 2013. These are all very positive developments; hence the stock is currently trading at near term highs. I would wait for the stock to cool off somewhat prior to starting a position. Look to get in on any pullback below $6.
Conclusion
All these stocks have strong profitability and fundamentals. Although, Huntington is technically challenged currently, I would still look to get in on any pullback. Applied Materials is the one to avoid long-term due to lowered guidance going forward. These are speculative investing ideas to consider.
As usual, use this information as a starting point for your own due diligence and research methods before determining whether or not to buy or sell a security. If you choose to start a position in any stock, I suggest layering in a quarter at a time on a weekly basis to reduce risk and setting a 5% trailing stop loss order to minimize losses.
Disclosure: I have no positions in any stocks mentioned, but may initiate a long position in GLW, FITB, F, HBAN over the next 72 hours.